Make: Aeroclub
Scale: 1/72
Price: aprox $6.5
Type: partly vac form and partly injected and contains white metal detail parts.

History
Back in 1932 de Havilland chief designer A.E. Hagg evolved the DH 83 Foxmoth to meet a personalised need for a light transport aircraft offering good performance in combination with low cost and economic operation. Wing, tail unit, gear, engine mounting were standard Tiger Moth components.

The design had a wooden fuselage carrying a pilot in an open cockpit above and behind an enclosed cabin that accommodated from three to four passengers. It was powered by a 120 hp Gipsy III engine. The new DH type was also shipped to Canada for trials on floats and skis undertaken in service with Canadian Aviation Ltd. 8 of the 98 British built Foxmoths were exported to Canada. Two examples were also built by DH in Australia. After the war de Havilland Canada built 52 examples of the DH 83C which had a number of improvements including a trim-tab on the elevators and enlarged clear view hood over the cockpit and improved power plant of one 145hp Gipsy Major IC engine.

The kit
Long been neglected there are few British civil light aircraft, notably the Moth, Tiger Moth and Rapide. The DH 83 Fox Moth was very welcomed when issued by Aeroclub back in 1993 The kit has a vac form fuselage, tail plane, fin and rudder on a white sheet of styrene along with interior detail as seats, floor, bulkheads, instrument panel. Main planes are injection molded in light brown plastic. Other smaller items such as wheels, Pitot tube and propeller are cast white metal. For struts and undercarriage legs there is plastic rod.

Two-page instructions come with the kit. This has brief history of the DH 83, an exploded view of kit parts, a brief assembly instructions and on the opposite page there is a 1/72 scale 3-view scale plan.

Construction
Assembly commences with separating parts from backing sheet, followed by rubbing down to required size of fuselage and wing halves, etc. Then follows drilling out of cabin windows. The cabin is fitted out to one's taste. Having completed the passenger area and the pilot cockpit there are no problems in assembly.

The wings have a little stagger and position of interplane struts are marked on them. Each wing is injected in one piece and correct dihedral is molded in. Undercarriage struts can be tricky to build and reference to issue drawing is helpful. Being a biplane rigging is essential to make it look right. I had to refer to photos of the type 'on line' to plan the rigging layout and position of control horns and wire for the elevators and rudder. For rigging I used fishing line that was passed through drilled holes on wings and side of fuselage.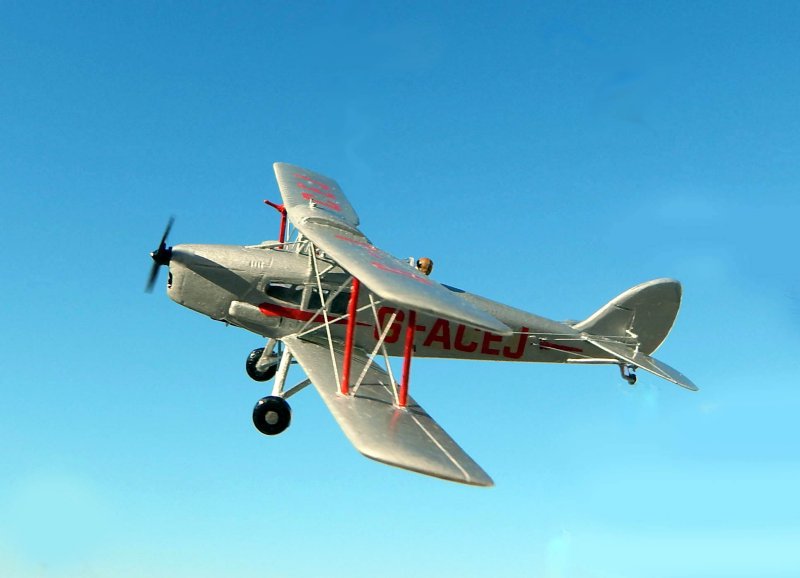 Decals and markings
As no decals are included I had to resort to my spare decal box. I chose to build the DH 83 Foxmoth with British registration G-ACEJ which had red lettering on fuselage sides and above and below wing surfaces, I noticed that over the years this aircraft carried various liveries and registration variety in style. I opted for an overall silver finish machine with short red trims in fuselage sides.

Conclusion
This kit had been among others in my stash for a few years, having now made it I can say it is an excellent kit that was worth building especially that I had seen the very Foxmoth performing in a flying pageant at Shuttleworth Trust collection museum in Beggelswade, Cambs UK. The kit is within the capacity of the average modeler and is highly recommended especially to those keen on light civilian type of private plane models.
Carmel J. Attard