History:
CO of VF-3, Lt Cdr. John Thach, wrote a very critical report of the performance of the F4F-4 Wildcat vs. the A6M2 Zero that had just occurred at the Battle of Midway and the need to provide its pilots a better fighter. Just 22 days later, the "Hellcat" rolled off the Bethpage Long Island Grumman factory. In February 1943 only 35 Hellcats came off this line, by December 458 examples were churned out in 1 month.

The Zero was the premier naval fighter dominating the skies of the Pacific and Asia in the first year of war. It had premiered in the China sky's in 1940, within the first few months it notched 59 victories without a loss. Following the attack on Pearl, it outperformed most allied fighters, only when allied pilots adopted new tactics, did they have better success that cancelled out the Zero's superior maneuverability. Only when the Corsair arrived in early 1943, did the Zero start losing its dominance, however, the Fast Carries equipped with the Hellcat placed the Zero on the defensive. A series of heavy clashes in 1943 and 1944 wrested air superiority from the Japanese, a reflection of the American aviation industry production superiority and technological
advances, especially in aircraft engines. The second-generation Corsairs and Hellcats were placed in combat way ahead of any IJNAF replacements to the Zero, which Japan had to rely on the Zero up to the end.

VF-9 was the first unit to use the F6F-3 in combat. The first Zero kill was by Ens. James Warren, of VF-33, based on Guadalcanal on September 6, 1943. The first aircraft carrier born combat between Hellcats and Zeros occurred on October 5th 1943.

In April of 1944, Grumman moved to building the dash 5 version after completing 4,402 of the dash 3's. No prototype for the -5 existed, they just shifted to the -5, with its first coming off the line on April 4th and the last -3 coming off the line April 21st 1944. After pilots reported some issues with the -3, the -5's came off the line with the new PW R-2800-10W water-methanol injected engine, allowing an emergency power rating of 2,200 H.P. Other changes included; a change to wind screen giving better visibility and an armored flat front plate; spring tabs on the ailerons to improve rate of roll above 200 mph; and 20mm cannon which was used on many F6F-5N night-fighters; able to carry a heavier bomb load with the MK 51 bomb rack inboard of the wing stub and three MK 5 zero length rocket launchers on each wing. Red lighting for the instrument panel for better night vision, flat bullet resistant glass windscreen, larger amour plating behind pilot. Still the rearward visibility was still an issue, a blown canopy was tried but disintegrated in flight testing when exceeding 200 MPH.

In October of 1944 an A6M5 Model 52 was captured and tested, the Zero had a better rate of climb up to 9000 ft, at 14,000 ft the Hellcat had the advantage. In the end the flight test report said; "DO NOT DOGFIGHT WITH A ZEKE 52'.

David McCampbell – 34 Kills

McCampbell was the Navy's ace of aces, outdistancing Lt. Eugene Valencia by 11 kills. Surviving the sinking of the USS Wasp, he went on to be an instructor of pilots at the operational Training Command. McCampbell was the first commander of the newly commissioned VF-15, promoted to commander in January 1944, he took over command of CVG 15 and led the group from April to November aboard the USS Essex (CV-9).

Claiming his first victory, a Zero, on a mission over Saipan on June 11. The Mariana's Turkey shoot saw him splash five(5) Judy dive bombers in the morning and two(2) Zero's in the afternoon mission on June 19th. Leading into the Philippines, three(3) Zeros and a single Jack and Dinah were added.

His most famous mission, earning him the Medal of Honor, was on October 24th, 1944, while accompanied by his wingman Lt.(jg) Roy Rushing they came across a flight of 60 plus Japanese aircraft returning to Manilla, that had launched an attack against Task Force 58, which included dive-bombers, torpedo-bombers and fighters. After a 1 hour long running battle McCampbell had shot down five(5) Zero's, two(2) Hamps and two(2) Oscars, all fighters, while Rushing shot down six, these 15 aircraft were nearly one quarter of the strike force. McCampbell's last kill was on November 5, 1944, a Zero, this brought his total to 14.5 Zeros, the highest of any of the Navy aces.

McCampbell received one of the first -5 models issued to Air Group 15 in October of '44', naming it MINSI II, as he had all his planes named. This plane was flown seldom by McCampbell as it was having engine reliability issues, twice in flight and following combat damage. It was duly renamed and passed onto another pilot.

Minsi III/BuNo 70143 is his best-known Cat, an early -5 with the windows behind the cockpit. He flew this on nearly every mission and it outlasted either of his previous Minsi's. Losing his log books after the war, it is estimated 20 of his kills was scored in Minsi III. After McCampbell left CVG 15, Minsi III was lost in an accident in December of '44', by his replacement.

McCampbell passed away on June 30, 1996, retiring from the Navy as a Captain in 1964.

The Model:
This is an Eduard 1/48 Hellcat that was about 60% built by another modeler, that sold at a club auction. I found the kit to be as good and if not better than the Hasegawa version. It needed the landing gear, prop, canopy, and the smaller exterior parts added. The painting was simply Testors rattle can Dark Sea Blue, providing the gloss finish, the kit provided Minsi III decals. Final touch up was an over spray of Testors Dull Coat and some weathering provided the matt finish. This represents McCampbells Hellcat-5 of VF-15 after his last kill.

Other kit decals include: 1) Lt. jg Ray Hawkings, VF-31, USS Cabot, Sept 1944; 2) Lt. Carl A. Brown Jr., USS Princeton, Oct 1944 (Paper Doll); 3) VF-7, USS Hancock, 1945.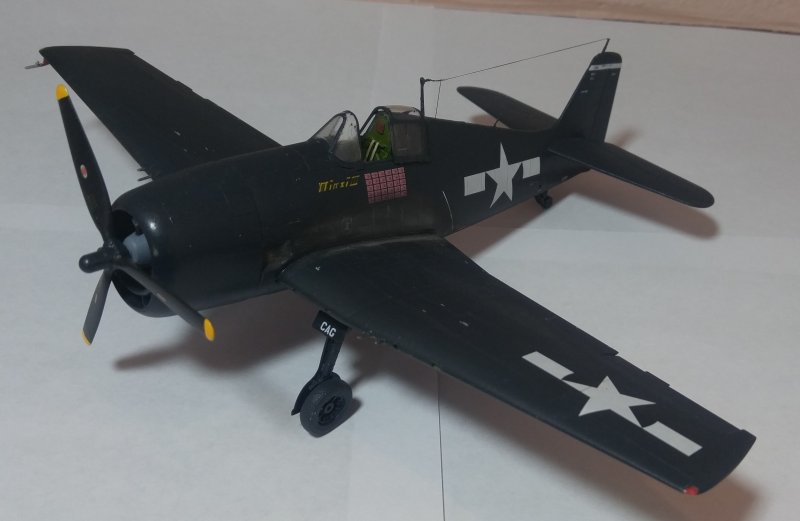 References:
1. F6F Hellcat vs. A6M Zero-sen Pacific Theater 1943-1944. Osprey Publishing / Edward M. Young.
2. Hellcat Aces of World War 2. Osprey Publishing / Barrett Tillman
3. Walk Around F6F Hellcat #9. 2quadron/signal Publications / LCDR Richard S. Dann

Thanks to Steve for his great site….
Mark L. Rossmann