This is my second T-33A build and submission. Months ago, I used a same scale Academy kit of this aircraft. This time, however, I caught sight of a Chinese model maker release of the same aircraft and scale, namely Great Wall Hobby (GWH).

I recommend the reader refer to my first T-33A build, in the Gallery section. Much of what I wrote applies to this build as well. Just to emphasize the extras I employed, though: 1) I used a light application of Ammo/Mig black wash in recessed lines for weathering; 2) I made my own seat belts and harnesses out of masking tape, cut to scale width; 3) I used an after market decal sheet rather than the one that came with the kit.

There is a significant difference between the Academy and GWH kits regarding the cockpit instrument panels: The GWH kit is more detailed, with a separate transparent plastic piece with printed instrument dial gauges that fits between a backing plastic part in the outline of the instrument panel and the front of the panel, with the cutouts where gauges are located; but once the front instrument panel cover – with heavy raised gauge location details – is placed over the transparent sheet of gauge dials, one can barely appreciate the gauge details, as the overlay piece buries it. I simply couldn't get close enough with my camera lens at the angle needed to allow one to see how it looks on the finished model.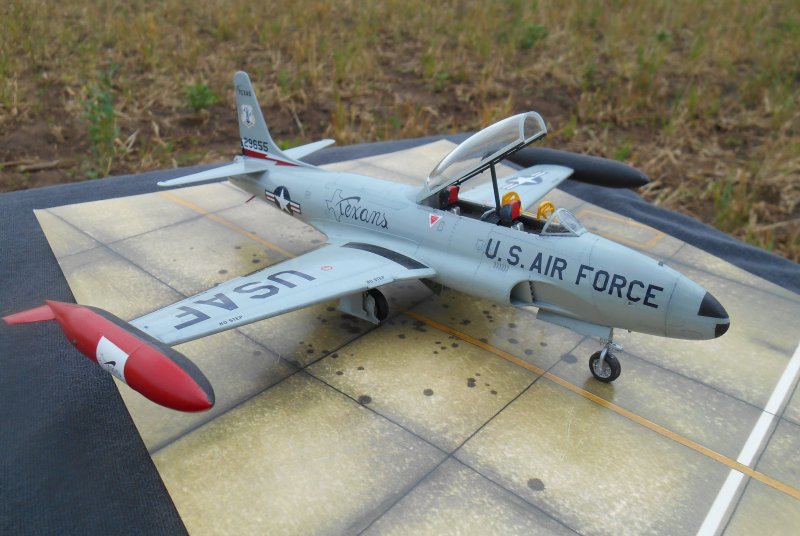 There was another nice addition that met my eyes in the GWH kit: an included boarding ladder, totally molded, no construction necessary. Again, boarding ladders were custom made for the particular aircraft, and photos of such mundane items can be very hard to find, much less try to scale and scratch build out of scrap sprue sizes.

The decals used were from Caracal Models. I selected a strip that represented an Air Force Reserve training unit in the Ft. Worth, Texas, area in the 1970s and 1980s. It's distinctive, as I hope you will agree.
Carl Jarosz