Japan Ground Self-Defense Force V-22B Osprey
Sometimes I buy a kit just because of how it looks. This is one example. I have always liked the look of the controversial V-22 Osprey and the Hasegawa 1/72 version, first released in July 2013, is acknowledged to be the most accurate current version. I've only see the Osprey in action once. Over Spencer Beach Park on the island of Hawaii I saw two USMC versions flying northwest toward, I presume, Marine Corps Air Station Kaneoho Bay. Most V-22s in the U.S. Marine Corps or U.S. Air Force are in the standard shades of gray. I know it is a functional paint scheme, but a bit boring to me.

When I saw this Osprey for the Japan Ground Self-Defense Force, I knew I found my next project. This model is straight from the box, including the kit decals. These are the newer Hasegawa decals: fairly thin with whites that are white and not cream. I kept topside weathering to a minimum, but did dirty up the undersides as Ospreys seem to collect grime in this area. Nice features include flight crew (but I am terrible at painting figures), positional flaps and poly caps for the tilt rotors.

The JGSDF ordered seventeen of the V-22B Block C variant, equivalent to the U.S. Marine Corps MV-22. Japan's V-22B will eventually be based at Saga Airport on the island of Kyushu. I have no idea why the Ground Self-Defense Force mimicked the WWII U.S. Navy aircraft camouflage first introduced in January 1943, but I thought it looked great. It is a complex scheme employing counter-shading and counter-shadowing. As every modeler who has built a mid-war F4U Corsair knows, in the U.S. Navy version a dark blue was applied to the surfaces viewed from the top, a lighter blue on surfaces viewed from the side, and white on surfaces viewed from the bottom. On the Osprey, the JGSDF went with a medium blue on top, medium gray on the sides and a very light gray for the bottom. Different colors for sure, but the effect is unmistakable.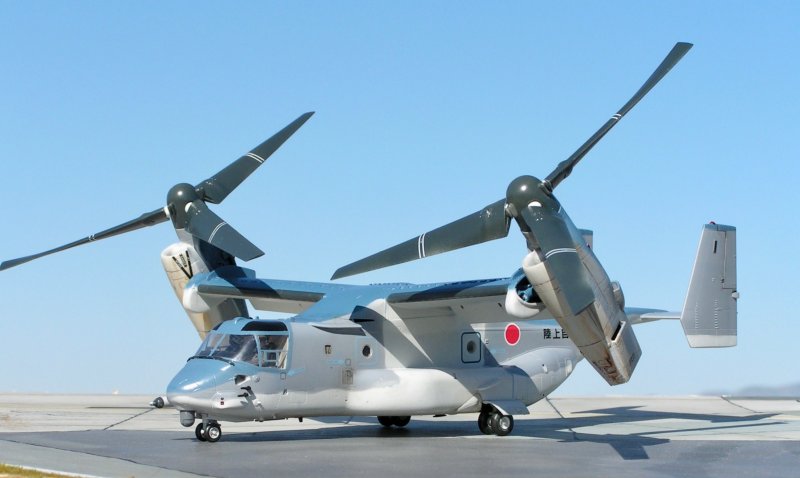 I used the Hasegawa instructions for the paint call outs and went with Gunze Sangyo Aqueous H307 (FS36320), Mr. Color H72 and Model Master FS36495, all thinned with the most magical elixir: Mr. Color Leveling Thinner.
Bob Leonard
Click on images below to see larger images