This is the third of my Wild Weasel collection, the complete series of 5 built between 2014 and 2019.

Although the EF-105F's gave Wild Weasel crews a dependable mount, there was still room for improvement. Most notably was a lack of hard points to carry enough external stores. This was complicated by the order for any aircraft heading north must carry self-defense ECM pods. Depending on how much external fuel was carried, Weasel crews could usually expect no more than two or three hard points for weaponry.

A second area for improvement was the Shrike anti-radiation missile. Although a capable weapon, its range was less than the firing range of the SAMs they were attacking. That meant that if the SAM site detected the Weasel first, it could fire on it before the Weasel was close enough to fire the Shrike. It was like using a long dagger to attack a man with a full-length sword.

The two primary needs were answered in the F-105G. The aircraft (all former F-105F's) had their interiors completely rebuilt to hold vastly more electronic gear including the AN/ALQ-105 ECM system. Now the Weasels had their own ECM defense built into the airframe instead of sacrificing vital weapons hard points for the job. Second, the G's electronic suite included the ability to carry and fire the newest anti-radiation missile: the AGM-78. At last the Weasels could fire their first shot from outside the SAM's own firing umbrella.

This is the Trumpeter F-105G built as a Vietnam vet operating out of Korat. Although I enjoyed the kit very much, I wanted to correct the tail this time, something I had not done on my EF-105F. The tail is accurate for the single-seat versions of the Thud, but not the two-seaters. I made an attempt to increase the height and the chord at the leading edge; it didn't end up perfect, but it was definitely an improvement.

The very nice Pavla resin cockpit was used; very few modifications needed to be done to make it fit, which is a welcome change from some other resin cockpit manufacturers. The reinforcement plates on the bottom of the wings were removed, and the ventral fin and fuselage intakes were replaced. A metal pitot was installed.

The Weasel was suitably armed with dual Shrikes on the outboards along with a single AGM-78 offset by one wing and one centerline fuel tank.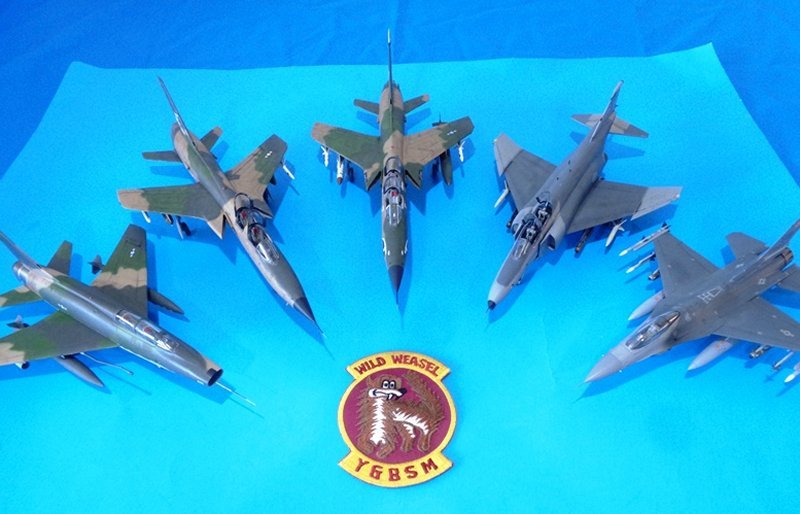 Wolfpak decals were used for the primary markings of "Mottley the Flying Dog," a Korat-based "G". The rest of the stenciling and weaponry decals were a combination of kit and Superscale decals. Testors Model Master enamels were used, plus Alclad for the exhaust area.

Thanks for looking, and I hope you enjoy my Weasel series!
Andrew D. the Jolly Rogers guy