This is the fourth of my Wild Weasel collection, the complete series of 5 built between 2014 and 2019.

As the Vietnam War came to a close, the Americans were able to look at the pioneering work done by the Wild Weasel crews, first in modified F-100F's, then dedicated EF-105F's and finally vastly improved F-105G's. In less than a decade the Wild Weasel mission had gone from zero to a formidable force. Now with the war winding down, it was time to fully reflect on the lessons learned from the work so far. And with those lessons, there was a new determination to build the ultimate Wild Weasel mount.

Attempts had been made early in the war to use the F-4C and F-4D Phantoms in the Weasel role, with some success, but the results were still short of the vision. And so work began under the name "Wild Weasel 5" to develop the best Weasel possible. Using the F-4E airframe as the starting point, the whole plane was gutted and completely redesigned from the inside out until the result was almost a completely different aircraft.

Added to the airframe was a new weapon in the Weasel's arsenal: the AGM-88 HARM. This weapon took Weaseling to a new art, including the ability to remember exactly where the target was even if they turned off their radar signal. North Vietnamese radar operators had learned they could survive a missile attack to fight another day if they turned off their radar if they were fired upon by the Weasels. This tactic was made null and void with the arrival of the AGM-88.

Although mainstays of Western defense during the final years of the Cold War, the F-4G was used in anger with great success in the first Gulf War in 1991.

This is the Hasegawa F-4G built as a Desert Storm vet. I loved the appearance of the mixed load of HARMS and Mavericks, plus the ECM system in the forward Sparrow well.

An Eduard brass set was used for the cockpit, plus a metal pitot. The AN/ALQ was from the Hasegawa weapons set, but the adaptor for the Sparrow well had to be scratch built. Mavericks were also Hasegawa, but again the LAU-117 launch rails had to be scratch built. The HARMs came from the Tamiya F-16CJ.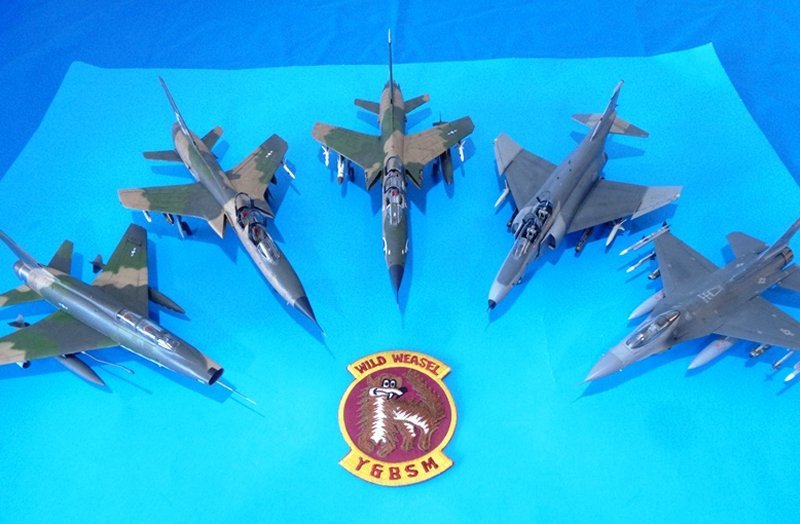 Primary decals came from Wolfpak, with kit and Superscale decals providing the rest. Paint is Model Master enamels.

A note about the anti-glare panel; most Phantoms in the Hill Gray camouflage scheme had a hard-masked anti-glare, but photos show this particular bird had a soft-edged sprayed edge (see final photo).

Thanks for looking, and I hope you enjoy my Weasel series!
Andrew D. the Jolly Rogers guy