Mirco Pecorari ( https://aircraftstudiodesign.com/ ), an Italian artist and designer, made a few years ago a fantastic looking side view of a fictional racer "GeeBee R3". So it was never a real design, just an artwork. The plane was realized as RC model by some manufacturers in different sizes.

There were no dimensions for the side view, so I took the cockpit size as reference. Further well matching radial engines have a diameter of about 1,30 to 1,40 m. So I had a second reference (height of the cowling in the side view) to find realistic dimensions for my model. In Mirco Pecoraris side view the cockpit size and the height of the cowling are matching. According to this my model has a wingspan of 165 mm.

First I wanted to use a top view from a RC model, but I noticed that the fuselages of all RC models are too flat to place a matching radial engine inside - seems that the RC manufacturers copied from each other.. So I made my own top view matching to a Wright R-1820 in 1/48 I ordered. The resin kit of the engine is from Vector. It´s very well detailed.

I found a pilot figure which was left from another kit, also the airscrew and the wheels I found in my spare parts.

The fuselage I made with frames which were covered with deepdrawn plastic sheets. I didn´t make molds therefore, I just used the grip of a hammer and a file, which had a matching bending. I cut off the segments out of the deepdrawn polystyrene. After that the fuselage was completely covered with filler and sandpapered.

The canopy, the spinner and the cowling were made from deepdrawn parts. The molds for those parts I made from wood.

The landing gear legs, wings, horizontal and vertical stabilizer were grinded from solid plastic.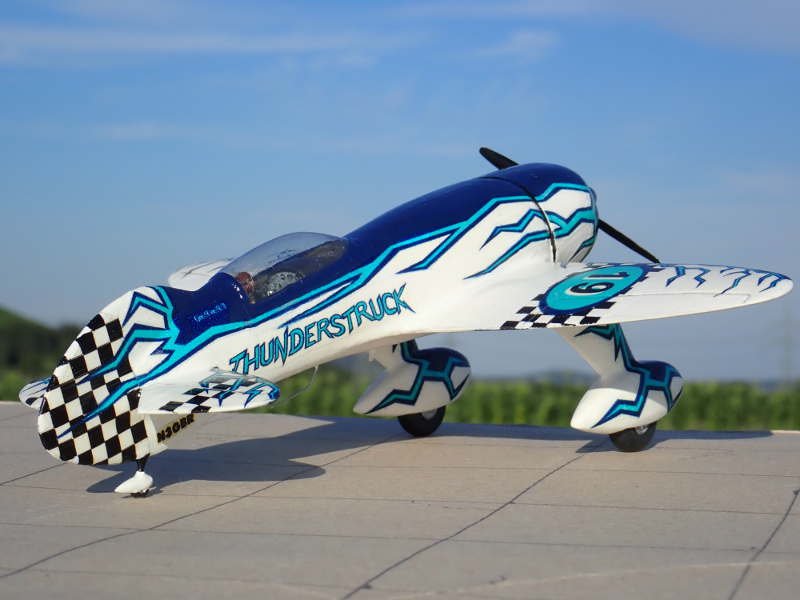 For the painting I drew my own design and printed it on decal sheets. I called it Thunderstruck, because when I look at the rapid design, and I imagine flying a race in Reno with it, the song "Thunderstruck" from AC/DC would match perfectly!
I painted the model with enamels from Humbrol and Revell and covered it with clear, shiny varnish.

I enjoyed very much bringing Mirco Pecoraris side view into the 3 rd dimension!

Greetings from Germany
Thomas Brückelt
Click on images below to see larger images