I was happy to see that KP offers new model kits of gliders in 1/72 (Two versions of the Astir CS-77 and two versions of the VSO-10 Gradient, see here: https://www.kovozavody.cz/kategorie-produktu/kp-172/ ). One of them is the Astir CS-77 Jeans.
Gliding is the purest kind of flying, If you haven´t done it yet, go to the next soaring club and make a passenger flight or learn it by yourself, if you have the possibility! You won´t regret!

The number of parts is very little, so it´s quick to bulid. The control surface gaps are shown very accurate. The canopy looks good and is very clear.

There are two versions of the kit, with fixed and with retractable landing gear. I chose the one with the fixed landing gear, because it includes decals of a German registration. The kits are the same. When you build the version with the fixed landing gear, the wheel must be shortened, so that the axis is right below the fuselage.

Inside the cockpit I added all the levers and seatbelts, further a compass was placed on the cover of the instrument panel. On the outside I added the small protectors on the wingtips, made a new pitot tube and a tailskid. In front of the wheel I made a little drill to imitate the tow release.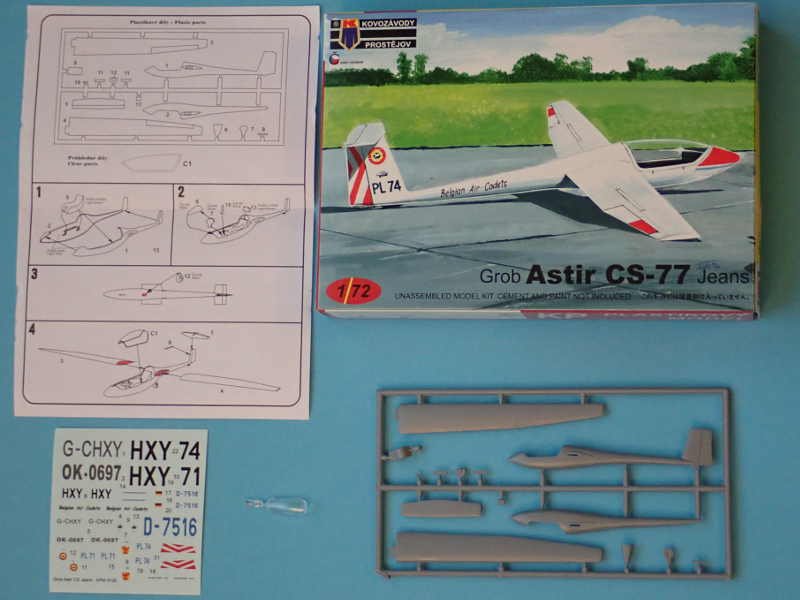 I painted the model with brush and enamels. The decals are printed very well and are easy to handle.

Clear, shiny varnish seals my model.

I enjoyed very much making this beautiful glider and hope there will be some more glider kits in the future!

Greetings from Germany
Thomas Brückelt