Hello friends of ARC, this is the second "what if" model I have made, this time with the wonderful Trumpeter kit, in 1:48 scale.

I always get the attention that this impressive attack aircraft and narrow support, has not managed to see operational life in this version. Now in the parallel universe, this version comes to life and sports a scheme applied to the Chilean Army aircraft.

The history begins with the renewal of the fleet of aircraft of the Chilean Air Force, which assumes its role of protection and interception in the defense of the territory, which leads the Army to assume the work of attack and coverage of its armored and infantry forces. Thus, in the mid-90's, the A-10 Thunderbolt II is chosen, as the ideal narrow attack and support aircraft for the Army. Within the negotiations, at least 6 units of all weather attack were included, and since they did not exist in the market, the modification of existing single-seater cells was used, which also incorporated an improved system of cockpit opening vertically.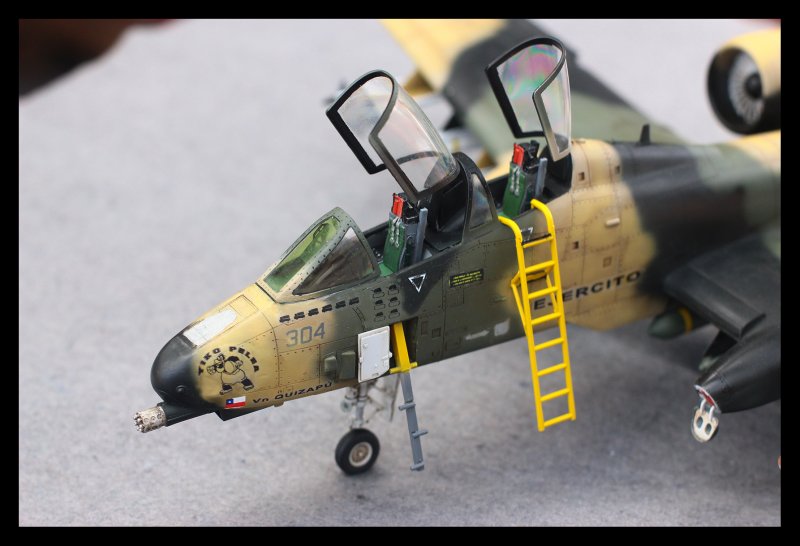 After the arrival of the first units, their painting scheme was modified by adopting the traditional one used by the attack helicopters of the Chilean Army, but it was decided, unlike the transport aircraft, to carry out the wrap-around scheme. As an army tradition, each unit was baptized with the name of one of the many volcanoes of our geography and in addition this specimen received a special nose art, the character of a Chilean cartoon, "Ogu" the caveman friend of a child named Mampato, Always willing to give a very good fight.


The decals were made at home and as usual in my work, I use automotive acrylics whose colors I prepare in my workshop.

Greetings from Chile.
Alvaro (Brujo)