F-4D Phantom II Texas Air Force Reserve: 147th F.I.G.
I said in a previous 1/32 submission that I don't build many such large scale models, as I'm becoming critical of available space, and don't want to add another room the house just for my models. Still, there are a few large scale kits that beg to be fashioned into a unique replica of the real aircraft that captures one's eye in that special way: indeed, not building such a kit would be akin to passing up on a rare life's opportunity. This is how I felt as I built this model, using after market decals and weathering to show a well-worn Phantom from the 147th Fighter Interceptor Group, one that was close to making a final flight to the Davis-Monthan Boneyard, in Tucson, Arizona.

I settled for a readily available Tamiya F-4C/D kit on the market. It has suitable cockpit and seat detail, and I wasn't about to pay more for after market accessories that would have added up to nearly three times the cost of the kit. Where needed, I scratch-built extra details, as with seat belts. Although hard to see in photos, I used clear green acrylics for the radar screens on the cockpit instrument panels, as this was more accurate look per my picture resources.

The overall build was straight forward. Tamiya did a good job in having large pieces mate up with little need for filler, and it had enough surface detail to employ both pre-shading black wash and a post painting application of black detailer to suit my weathering preferences.

I broke out the airbrush to apply the underbelly staining, streaking from drained fuel and other fluids. I found no standard color works best; there are black, brown, and even golden shades in how metal gets discolored by foreign chemicals.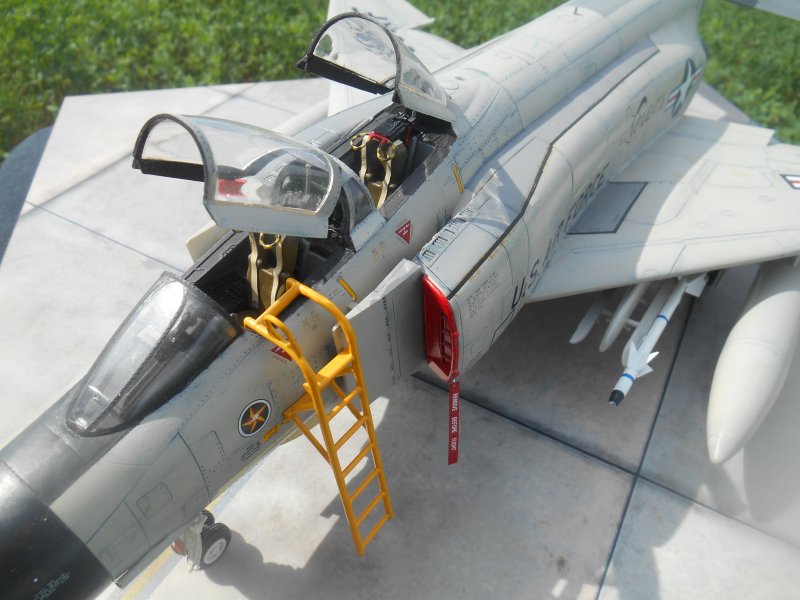 Also regarding enhancements, I purchased a pair of air intake covers, so that I could hang the 'Remove Before Flight' tags on them. The wing missiles didn't need them, as I made them to reflect the inert type, i.e. no loaded warhead with explosives (the blue band signifies inert ordnance).

I've thus fulfilled a life's desire with this Phantom model. There are few "dragons" left to slay, but stay tuned.
Carl Jarosz