This is the old Heller 1/48 Super Etendard kit, in an Airfix reboxing. I added the Neomega cockpit set, which includes a great ejection seat. Some Extratech PE parts were used in the cockpit: HUD, windscreen details and canopy detonation cord. This Extratech set also contains some details for the wheels, exhaust and airbrakes that I used as well. Some further scratch-built detail was added around the wheel bays, landing gear brake lines, arrestor hook and IFR probe. Quite a bit of putty and rescribing was needed during the construction of fuselage halves and engine intakes, as I had some serious fit issues when building up the model.

Enamel paints used are Humbrol no.'s 125 and 145, Dark Grey and Medium Grey, slowly built up in thinned layers with some variations in color by slightly darkening or lightening the paint. The landing gears and wheel bays were painted with Alclad aluminium. Weathering with MIG enamel wash and oils completed the paint job.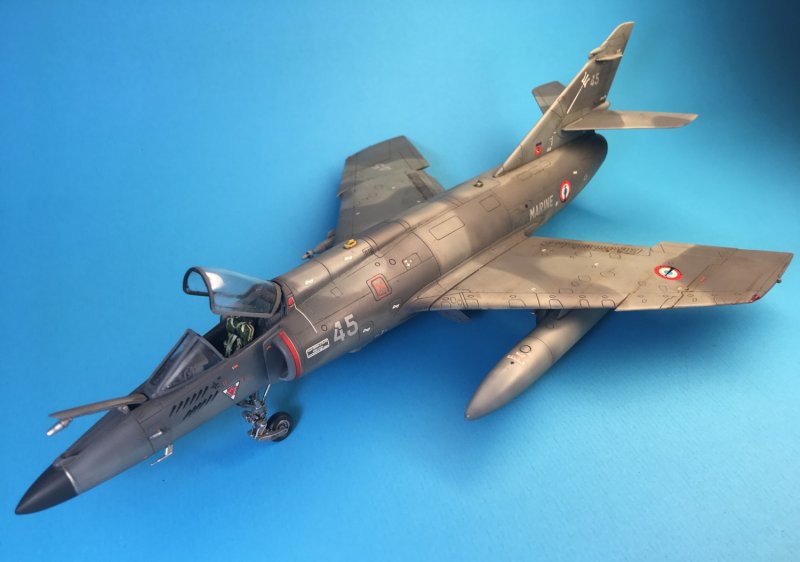 The kit's decals were hardly usable as they were seriously out of register. I used Berna Decals instead, which worked out wonderfully. The kit is finished in French Navy markings, showing an aircraft from Flottille 11F operating from the French aircraft carrier P.A. Koch, deployed in 1999 as part of Operation Allied Force over Kosovo. For the typical asymmetrical load-out during these missions, I used the kit's fuel tank, a resin ATLIS pod from L'Arsenal and a GBU-12 from one of the Hasegawa weapons sets.
Enjoy the pics!
Patrick Vossenberg