F-2A Viper Zero, 6 Hikotai, 2010
So I am just now getting to posting pics of a build I completed two months ago... Been super busy getting married and work has been brutal, so haven't had much time to put together a post. Anyway, here is my 1/48 Hasegawa F-2A of the JSADF 6 Hikotai "Skull Raiders". First time doing an in-flight build in awhile, so it was good to get back to that. I love doing aircraft in their natural environment, and I think I will try to do them more often in the future.

The kit is very nice, great detail, very good fit. I enjoyed the entire build, it was a nice change of pace from the complicated builds I have done lately. As far as aftermarket, I used the Hasegawa JASDF Weapons Set and Afterburner Decals 6 Hikotai Viper Zero set. I got really lucky finding that sheet at a local show for less than $10, so I was eager to put them to use! Other than that everything else is OOB.
For the camo, I used the Mr Paint JASDF Blues set, and they seem to be a good match, if a bit dark.

Here is what I used for this build:
Kit: 1/48 Hasegawa F-2A (PT27)
Decals: Afterburner Viper Zero 6 Hitokai (48-064)
Aftermarket: Hasegawa JASDF Weapons Set A (X48-10)
Paints: Gunze Mr. Surfacer Black 1500 (main aircraft primer base), Tamiya Liquid White Primer (for marble coat), Mr Paint MRP-295 JASDF Navy and Intermediate Blues set, Gunze Aqueous H317 Dark Gull Gray, Tamiya Rubber Black, Clear Red, and Clear Green, Gunze Mr Color GX2 Gloss Black (gloss black primer for metalwork) and Alclad II Airframe Aluminum, Pale Burnt Metal, and Burnt Iron. Future Gloss coat for decals and Future+Tamiya XF-21 Flat Base 6:1 ratio for final matte coat. Mig Ammo Deep Gray panel wash.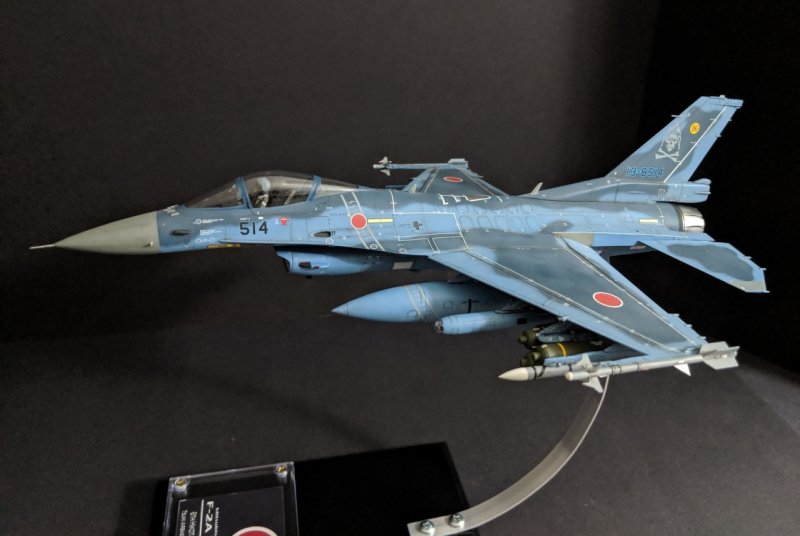 As far as the stands, I make them myself. Here is a link to how I do it and with what.

https://www.scalemates.com/profiles/mate.php?id=16625&p=albums&album=50194

Now on to the pics!
Michael Phillips
Click on images below to see larger images