Hi all!

Back again with my latest completed project, the 1/48 Academy Su-30MK2 Flanker-G of Tentara Nasional Indonesia Angkatan Udara (Indonesian Air Force), circa 2014. This model was inspired by my wife, Cicila, who is from Indonesia. This model is now proudly displayed in our living room and she is very happy with it! Happy Wife=Happy Life.

I started with the Academy Su-30MK kit and added the Wolfpack Su-30MK cockpit and update sets. The Academy Flankers are a bit long in the tooth, with only decent detail and some dimensional issues, but with that being said they do build up to be a nice looking model, so I pressed on undaunted. The kit has you cut off the forward section of the forward fuselage and replace it with the Su-30 front end. This is actually not too bad of a task as the front piece does fit pretty well. The Wolfpack update set adds the correct twin tails. The cockpit set fits VERY well, probably the best fitting aftermarket resin cockpit set I have used so far. So that was nice. I also added the Miniarm corrected nose cone and Cutting Edge burner cans for some extra detail. Both the nozzles and nosecone fit very well, and the nosecone also comes with a brass pitot tube, so that is a nice bonus! For the decals, I used the Caracal Models Sukhoi Su-30MK/MKK Flanker Part 1 sheet mostly, with some kit decals used for specifically sized areas. The Caracal Decals performed wonderfully as usual! Very happy there.

Overall I am very happy with this model. The Academy kit is pretty simple, does have some fit issues here and there, and may not be the most accurate... but I feel like this turned out nice and will not be getting rid of any of the other Academy Flanker kits I have still in my stash. I still have lots of schemes I want to build!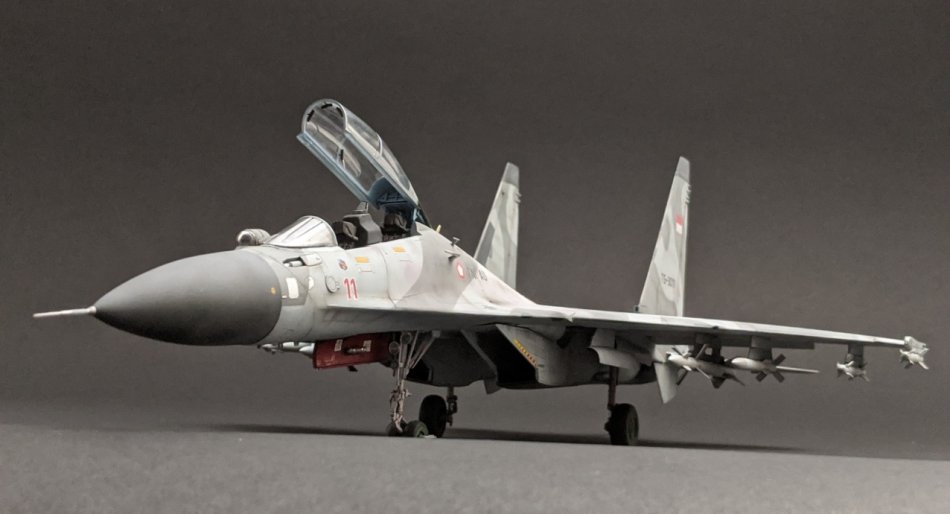 Here is what I used on this project:

Kit: 1/48 Academy Su-30MK Flanker, 12223
Decals: Sukhoi Su-30MK/MKK Flanker Part 1 CD48088, OOB
Aftermarket: Wolfpack Su-30MK Flanker Update Set, Wolfpack Su-30MK Flanker Cockpit Set, Cutting Edge Su-27/34/35 Burner Cans & Fully Opened Nozzles, and Minarm Correct nose cone Su-27 and pitot tube (Metal)
Paints: Gunze Mr. Surfacer Black 1500 (main aircraft primer base), Tamiya Liquid White Primer (for marble coat), Mr Paint MRP-195 Sukhoi Cockpit Blue-Gray, MRP-032 Russian Wheel Green, MRP-189 Traffic Gray, Gunze Aqueous H337 Grayish Blue and H333 Extra Dark Seagray, AKAN Red for Gear Doors, Tamiya Gloss White, Rubber Black, Smoke, Clear Blue, and Clear Yellow, Gunze Mr Color GX2 Gloss Black (gloss black primer for metalwork) and Alclad II Airframe Aluminum, Burnt Iron, and Jet Exhaust. Future Gloss coat for decals and Future+Tamiya X-21 Flat Base 6:1 ratio for final matte coat. Mig Ammo Deep Gray panel wash.
Michael Phillips
Click on images below to see larger images