1/72 Hasegawa B-24D converted to a Consolidated PB4Y-1 Liberator

Consolidated PB4Y-1 Liberator B-3 'C' "Calvert 'n Coke" of VB-103, Dunkeswell, Devon, UK, October 1943. 1/72 Scale (base kit is the Hasegawa B-24D).

On the night of 12 November 1943 this aircraft with a crew of ten was on an assigned 10-hour patrol over the Bay of Biscay when she signalled "Am over enemy submarine in position…", followed by silence. She had crossed the outbound course of U-508 (Kapitänleutnant Georg Staats and a crew of 56) from Lorient. Nothing more was heard from either the aircraft or submarine A search the following day revealed one large oil slick and a smaller one about five miles away and B-3 was subsequently credited with the sinking of U-508.

The bomb bay is detailed using the Eduard PE set, which included the fins and other detail parts for the kit-supplied 1,000lb bombs. I chose to use some of the Eduard brass to detail the kit parts such as the bomb racks rather than making them entirely from the PE as supplied. The Mk.24 FIDO torpedoes were also from Eduard while the Mk.54 depth charges are by Brengun.
Apart from the floor, bulkheads and gun mounts, the waist gun compartment and radome retraction mechanism are entirely scratch-built using spare PE, plastic, metal rod and paper. The radome itself is from the Pavla Liberator GR Mk. V resin and vac form detail set.

I also used the Eduard 'Big Sin' resin and PE detail set for the engines, bomb bay doors, turbos and wheels.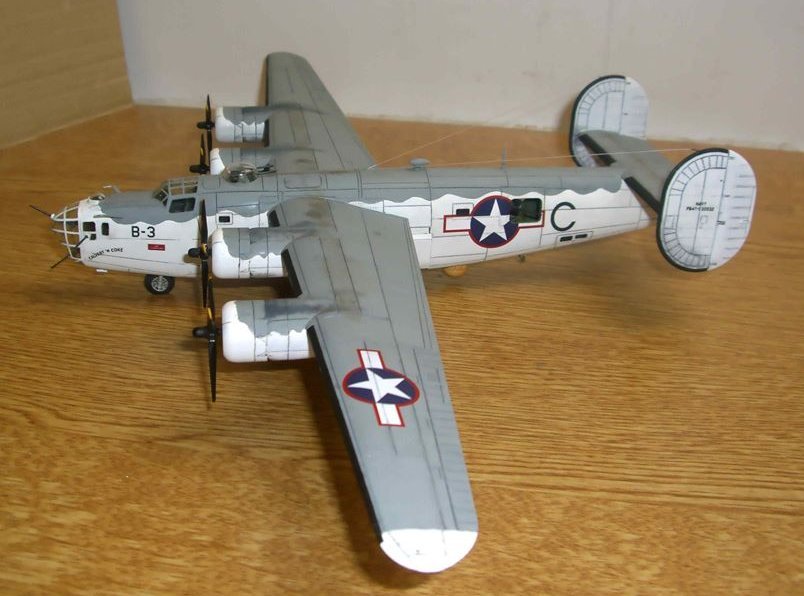 The model is brush painted in enamels and weathered using Humbrol Dark Grey and Rust weathering paints.

The national insignia decals are from Techmod while the rest I printed myself.
Gordon L. Hewstone
Click on images below to see larger images