ARC was kind enough to post my previous VFA-115 submission, which appeared on July 4 (Go USA!). That previous aircraft was prevalent at the Bicentennial year of 1976, i.e. the famous F-4J. Now beam ahead to 2009, when the markings on this submission were used on a newer aircraft used by the Marines, the F-18A Hornet, which was an improved variant over the first 'A' model made, hence the plus-plus ("++) suffix. Additionally, in the 1970s, the Marines had "VFA" unit designations; in the 21st century, that became "VFMA."

I again used the best 1/48 F-18 kit on the market yet, made by Hasegawa, Again, it was a relatively direct build, with the exception of those bland Hasegawa cockpit seats: I purchased a True Detail resin seat as more accurate replacement.

There's something about The "Silver Eagles" and their use of the American flag year after year that always catches my eye. These decals were used on the 2009 Hornet, coming with the kit. And as usual, Hasegawa didn't have a good feel for the poor modeler, who had to bend and flex the vertical stabilizer decals to conform to the raised details on the plastic parts involved. Have a sharp #11 X-acto blade handy, along with pints of decal set. I omitted using the long decals for the upper fuselage walkway, atop the engine intakes and going backward to about half the fuselage length: I masked the area and airbrushed the correct color.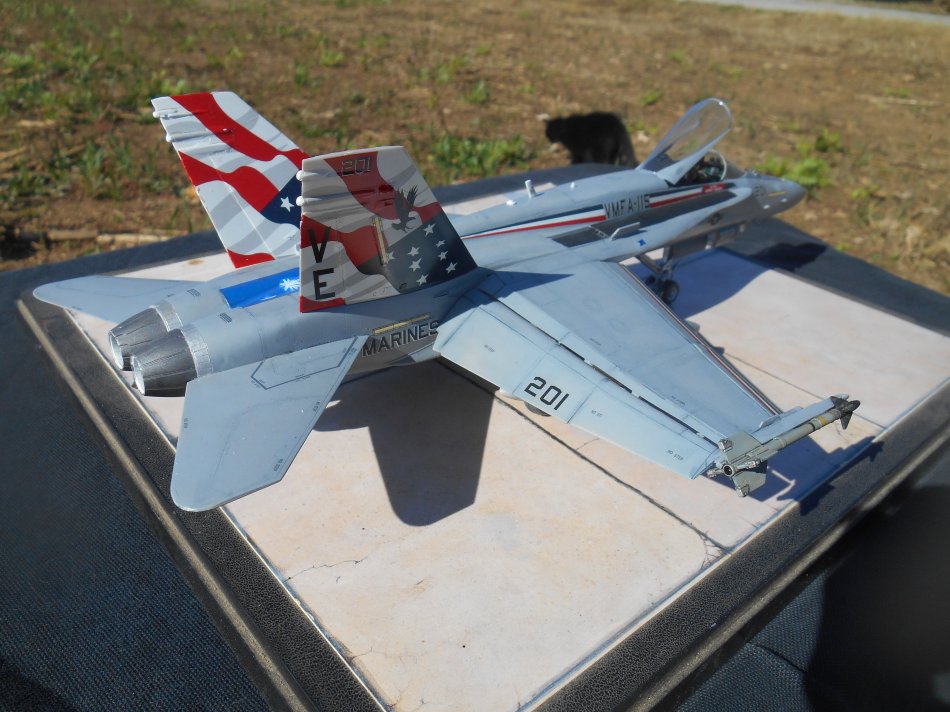 I added Sidewinder missiIes from a different 1/48 kit on the outer wing rails for a change of pace. Finally I used my usual light weathering on the top surfaces, but heavier weathering on the undersides.
Carl Jarosz