I built this diorama for my brother who was and electrician specialist on the F-14 with VF-102 during Operation Desert Storm. Aftermarkets include Eduard ejection seats, Eduard zoom cockpit panels, Brengun tow bar, Reedoak figures/tie-down chains/pad eyes, Skunkworks Models missile cart, Sabre pilot, Tamiya braided hose and Galaxy F-14 masks.
The base is insulation foam board cut to size. I replicated the non-skid surface with Tamiya Diorama Texture Paint. It was applied with a stiff bristle brush, then painted with Tamiya German Grey. The deck was then weathered with Vallejo acrylic white and dark grey washes. All foul lines were masked and painted with acrylic paint. The deck service hatch, deck edge scupper, arrestor cable sheaves and cross deck pendants were made of Evergreen styrene sheets and rods. The environmental control ducting on the canopy sill was made with Evergreen rods. The decals on the deck crew cranials/float coats, scupper, and the hand print on the nose cone were printed on laser decal paper with Power Point.

The RIO's helmet came from the kit itself. I cut off the oxygen mask/hose and dug out the inside of the helmet and applied it to the Reeadoak figure. Pilot/RIO helmet decals are printed on laser decal paper. The air start hose is Tamiya braded hose painted pink, then weather with dark pastel chalk. I used thin Tamiya masking tape painted black to simulate the ribbing on the hose. The yellow SINS (Ship's Inertial Navigation System) cable and yaw string are transparent sewing string. The black electrical cable is left over rubber hose from the Verlinden tug kit. Diorama base data plates are printed on copier paper.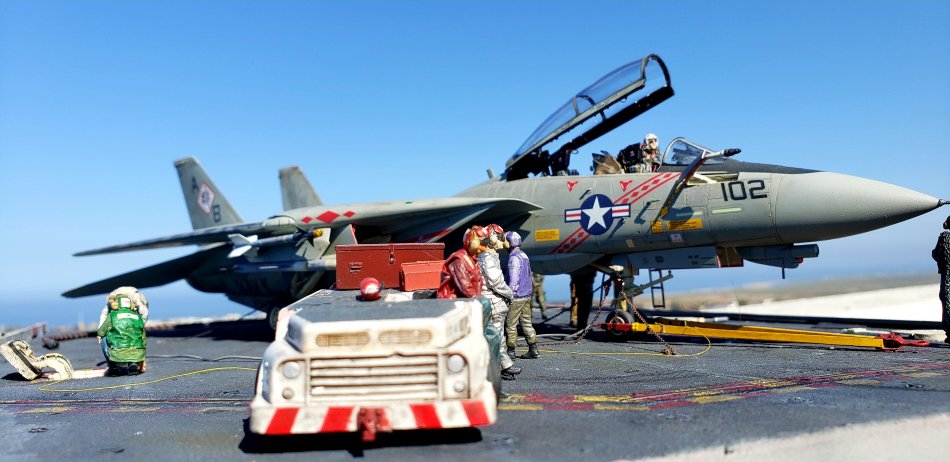 To simulate subtle weathering I washed the base coat with dark acrylic washes, then I applied random white and dark washes with Tamiya Q-tips. I used a thin brush and applied fresh base coat paint to the edges of panels to simulate corrosion control fresh paint over the weathered base coat.
This was a ten month project and about 400 man hours.
Rodrigo Rendon
Click on images below to see larger images