The Vermont Air National Guard was founded in 1947 as the 134th Fighter Squadron. They were tasked with a primary mission of air defense of the Northeastern United States, and a secondary mission of ground attack. Based in Burlington, Vermont, they initially shared Ethan Allen AFB with the frontline 37th Fighter Intercept Squadron. Later with the closing of Ethan Allen the unit would be moved to Burlington International Airport.

I was born in Burlington during their F-102 years, and although we haven't lived there since those same F-102 years, Vermont has always been special to my family. In 2015 I decided to undertake the building of their entire aircraft history in 1/72. This was ambitious since no decals exist for most of their aircraft as of this writing, leaving me to test the limits of my resourcefulness.

The first mount of the "Green Mountain Boys" in 1947 were postwar P-47D Thunderbolts. Most were low-time airframes, many of which never made it to the war zone after leaving the factory. Despite the postwar efforts to rename them as "F-47's", the "P" still stuck firmly, with the term "P-47D" appearing throughout the squadron's official paperwork. They were operated until 1950, when they traded them for P-51's.

Under the advice of ARC members, I selected the Tamiya 1/72 kit, with the addition of Quickboost's D30 Dorsal Fin Conversion and D30 Wing Conversion parts. Construction was fairly straightforward, with wiring added to the engine face; I seem to recall some difficulty with the fit of the windscreen. The whole airframe was finished in various aluminum shades of Alclad.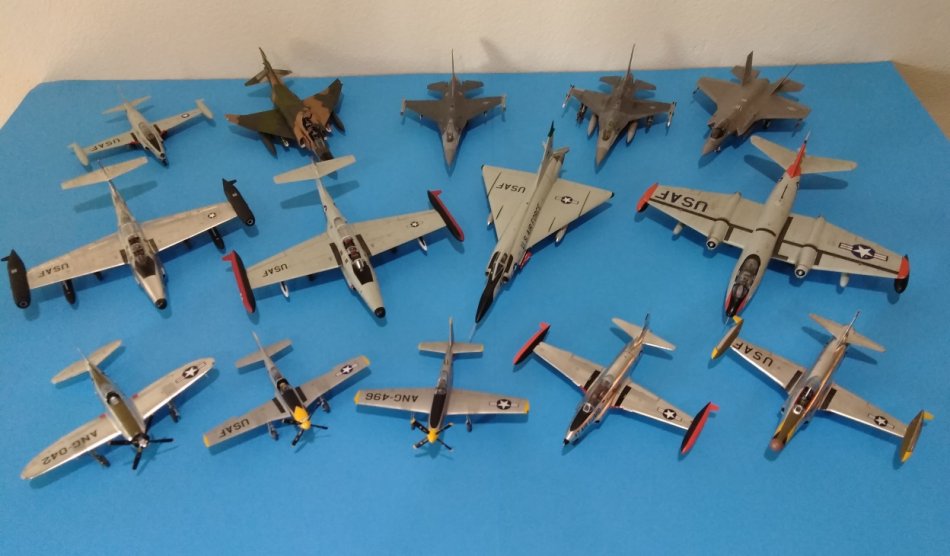 No decals exist for Vermont's Thunderbolts in any scale as of this writing that I am aware of. Fortunately, their simple markings were simple to recreate using generic numbering/lettering sheets. The one advantage of a relatively simple/unelaborate scheme is that it's easy to improvise!

I decided upon #4421042, which was later lost in a fatal crash.

Next time is Vermont ANG part 2: P-51D Mustang.
Andrew Desautels