The Vermont Air National Guard was founded in 1947 as the 134th Fighter Squadron. Based in Burlington, Vermont, they were tasked with a primary mission of air defense of the Northeastern United States, and a secondary mission of ground attack.

In 2015 I decided to undertake the building of their entire aircraft history in 1/72, as they are based in my birth city. This was ambitious since no decals exist for most of their aircraft as of this writing, leaving me to test the limits of my resourcefulness.

The second mount of the "Green Mountain Boys" was the P-51D Mustang, which they received in 1950 and operated through 1954. As with the previous P-47's, most were low-time postwar airframes. While many postwar Mustangs were refurbished with fixed tailwheels, extra radio gear behind the headrest and flat aluminum paint finish, the Vermont 'stangs appear to have received none of these modifications except the aluminum paint.

I used the Tamiya 1/72 kit. After upgrading the plane to F-51 standard (radio, tailwheel), I went through my photos again and realized I'd wasted time/effort/materials, and had to backdate it to regular P-51 standard…which is what the kit was in the first place. Always an adventure.

Only real modification I did was dropping the flaps. Not fun at first, but the payoff was worth it. Additionally I added scratchbuilt rocket rails. As with Tamiya's Thunderbolt, I was not impressed with the fit of the windscreen, despite quality of the rest of the kit. I also ordered Quickboost's exhausts, but was shocked to find they were slightly undersized and did not fit! One fail versus all the other truly wonderful bits I've used from them over the years; I can deal with that.

As with most of the Vermont aircraft, no decals exist in any scale for their Mustangs that I am aware of. More's the pity, since they sported a truly unique and eye-catching geometric pattern! Later they went with a bars-and stars pattern in yellow and black, but I much preferred the older look. I did it with a combination of cut deal film and careful masking/painting. Again, not fun at first, but the payoff was worth it. The rest of the airframe was finished in a mix of Model Master light gray and aluminum. The rest of the markings were either kit or from improvised from spares and generic numbering/lettering.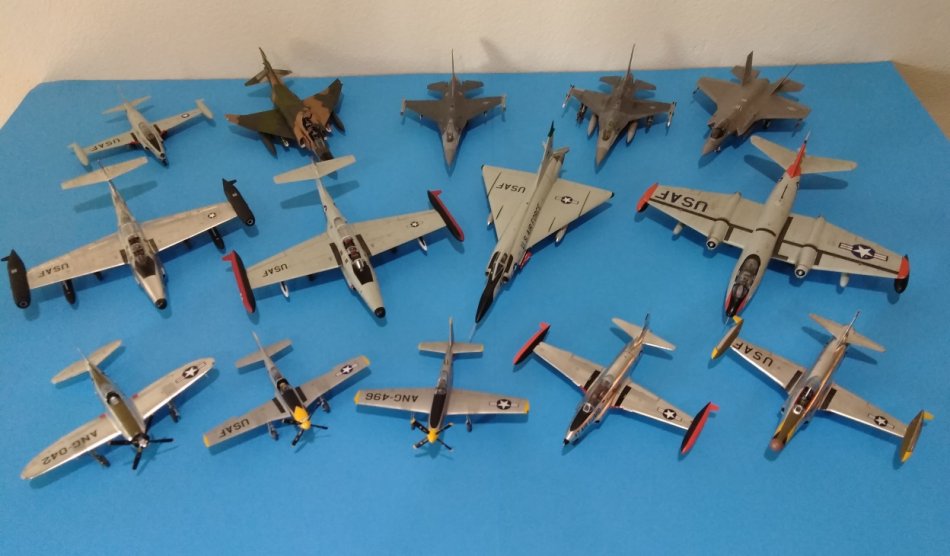 Many of Vermont's Mustangs had very eye-catching diagonal fuselage "command" stripes which I dearly would have loved to do! Unfortunately, these apparently came in varying colors, none of which can be determined from black and white photos. So I opted for a less interesting stripeless bird.

Next time is Vermont ANG part 3: P-51H Mustang.
Andrew Desautels