Before the acquisition of the current C-130 in 1972, the Blue Angels used several support aircraft, R4D (DC-3), R5C (C-46), and R5D (DC-4). These aircraft carried the tools and parts to keep the Blues flying their precision routines beginning in the first 1946 season.

The Lockheed C-121J, military version of the L-1049 Constellation airliner joined the team during the 1968 season. It served in the all blue scheme as seen here and later with a white fuselage top, to reduce cabin heat. The biggest drawback of all these support aircraft was they required a forklift to load and unload until the introduction of the roll on, roll off feature of the C-130.

Minicraft released the Blue Angel C-121J kit in 2001, a re-box of the original 1998 L-1049 Constellation commercial airliner. The kit has good engine and landing gear detail. The fit of the clear cockpit glass is ok, but a windshield decal is included in the kit as an option that I chose. The model requires 5/8 ounces of weight in the nose to prevent tail sitting, so a thin coat of super glue offers additional strength to the dainty strut assembly. Because of the vague way it can be attached, one can miss the iconic forward rake of the nosewheel and also the nose wheels that toe in at the bottom. The nicely detailed engines for this scale were painted aluminum and given a black wash.

The model was painted with ModelMaster Blue Angel Blue with Testors Chrome Silver cowling leading edges and prop spinners. The trim color was Testors Yellow. The radome nose was painted Testor Semi-gloss Black. The kit decals went on with no trouble, but the fiddley black de-icer boots were a challenge.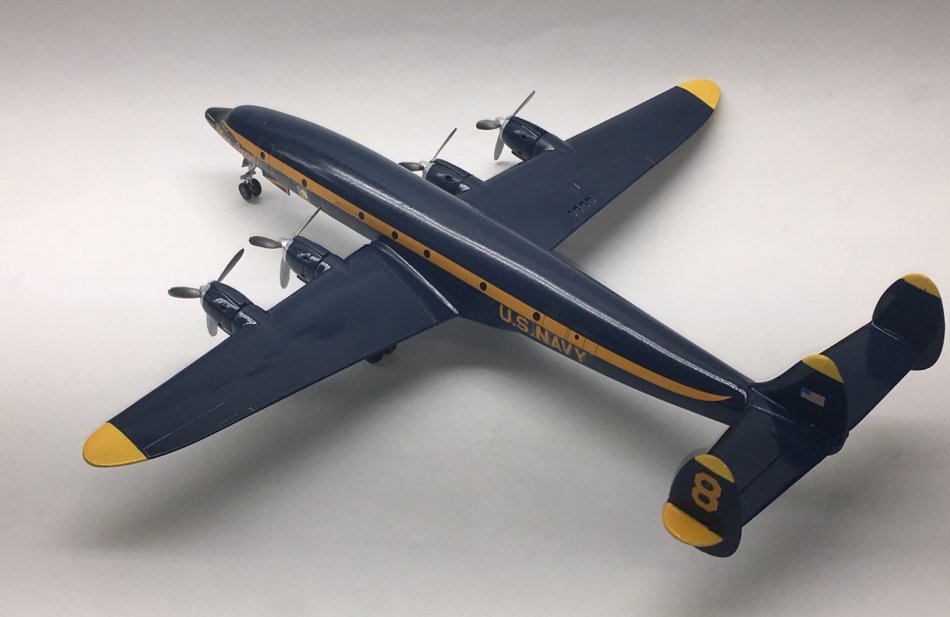 The graceful Blue Angel "Connie" was a fun 20 hour build and addition to my 1:144 transport collection. I am tempted to pull the 1:72 Heller Connie kit and Blue Angel decals out of my stash to build!
H. Davis Gandees