The Vermont Air National Guard was founded in 1947 as the 134th Fighter Squadron. Based in Burlington, Vermont, they were tasked with the air defense of the Northeastern United States, and a secondary mission of ground attack.

In 2015 I decided to undertake the building of their entire aircraft history in 1/72, as they are based in my birth city. This was ambitious since no decals exist for most of their aircraft as of this writing, leaving me to test the limits of my resourcefulness.

In 1974 the Green Mountain Boys' mission was radically changed from fighter interceptors to electronic aggressors. Now instead of being on guard to defend the Northeastern United States from incoming Soviet bomber formations, they would now train other fighter units by simulating these same Soviet bombers, including their electronic emissions. The Vermont aggressor mission would last 7 years until 1981.

To fulfil this very different mission they would receive very different aircraft, in the form of EB-57 Canberras. Originally built as bombers, they had been completely rebuilt as electronic platforms, bristling with a dazzling array of antennae and radomes from nose to tail.

Starting with the Italeri 1/72 B-57B, this would be the most challenging of my entire Vermont collection. Not only were decals non-existent in 1/72 at the time of construction, but the extensive array of antennae and radomes would have to be entirely scratchbuilt. The intakes were completely wrong for the EB and would have to be completely rebuilt. Even the underwing chaff pods would have to be made from scratch. It was such a daunting task that the more I researched it, I nearly decided to avoid the whole project.

I also discovered that this model needs a lot of nose weight….a LOT of nose weight. This led to realizing too late that the main gear are slightly too weak to take the weight; every time the finished model is moved, or even nudged, it sways to and fro on weak gear struts; I pray they last longer than the 7 years the real ones served in Burlington. If they snap, they'll have to be drilled and reinforced with brass rods.

The pitot boom was made from brass rod, and the windshield wiper was scratch built from leftover photoetched bits. The rear cockpit had added scratchbuilt displays, and the seats replaced with Quickboost ESCAPACs.

The EB was finished in Model Master enamels, except the Alclad finish on the exhausts.

As I was painting the airframe, Caracal Decals released an excellent sheet featuring Vermont's EB's in 1/48 scale. They were kind enough to share photos with me which provided me enough reference material to put together improvised stenciling and markings for the entire airframe. To match references, markings were scrounged from a wide variety of sources, including Wolfpak, Superscale, Italeri kit, Trumpeter kit and Hasegawa kit decals. Wolfpak sheets provided both the general EB-57 markings (72-024 "Alaskan Air Command") as well as the "Green Mountain Boys" script for the chaff pods, which came from the F-102 markings (72-072 "Gamblers). The same F-102 markings supplied the "Vermont" tail inscription. Other data came from everything from F-4's to Tomcats to F-102's and even F-105 stencilling. This agonizing process took more than a week.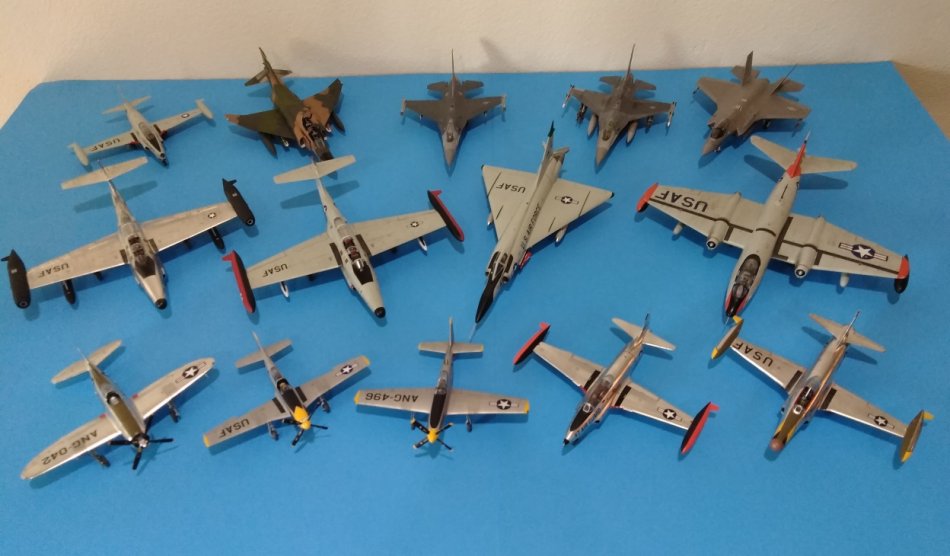 The journey was tedious, but despite the headaches, grumbling and gnashing of teeth, I think the result is well worth it. On a final note, I discovered during the decaling process that the very aircraft I chose to model is somewhat prominently displayed here in my current city of residence, Tucson AZ, on AMARG's "Celebrity Row" near Kolb Road. Indeed, it seems to have followed me from my place of birth to here.

Next time is Vermont ANG part 10: F-4D Phantom.
Andrew Desautels
Click on images below to see larger images