The Vermont Air National Guard was founded in 1947 as the 134th Fighter Squadron. Based in Burlington, Vermont, they were tasked with the air defense of the Northeastern United States, and a secondary mission of ground attack.

In 2015 I decided to undertake the building of their entire aircraft history in 1/72, as they are based in my birth city. This was ambitious since no decals exist for most of their aircraft as of this writing, leaving me to test the limits of my resourcefulness.

In 1981 the Green Mountain Boys' mission returned to its original primary job of air defense, with a secondary role of ground support. To fulfil this mission they traded their EB-57s for the legendary F-4D Phantom. Once again the roar of powerful afterburners filled the Burlington skies and out over Lake Champlain. The Phantoms would spend five years over Vermont, being traded in 1986 for F-16A's.

The Hasegawa 1/72 F-4D kit may be complicated and over-engineered, but when finished it is a fantastic result. As of this writing they are not easy to find, and usually fetch a high price on Ebay. Fortunately I had one left in the stash. I used Eduard Zoom cockpit detail, True Details Martin-Baker seats and scratchbuilt the wires and cords between the two 'pits. Vermont Phantoms arrived in wraparound SEA schemes, but eventually ended up in green & gray Euro I schemes. I went with the former. Model Master enamels were used throughout, except the exhaust area and inboard portions of the tailplanes, which were done in Alclad steel, stainless steel and titanium.

Finally, at last, there are accurate, high quality decals for a Vermont Phantom available in 1/72 from Wolfpak! Unfortunately they were done a couple of years after I finished this project. So, once again, I improvised. Standard 80's style Phantom markings and stenciling, the "VT" and number on the tail from a generic USAF lettering/numbering decal sheet. Yellow stripe on the tail masked and sprayed, along with the striped border. The "Green Mountain Boys" script came from a Superscale sheet for their F-16A's, though all three words were cut separate and spaced out evenly along the Phantom's tail.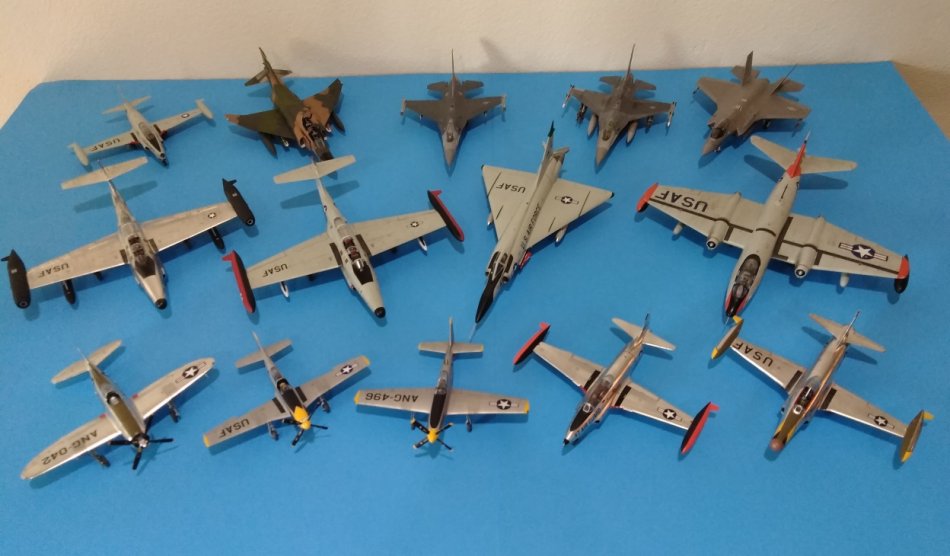 Fairly minimal weathering to match photos I used, in stark contrast to the beat-up and battered Vietnam Phantoms. All in all, a great addition to the Vermont flightline!

Next time is Vermont ANG part 11: F-16A Fighting Falcon.
Andrew Desautels