This kit was one that had been laying on my hobby shelf for years, in half-done state. I finally overcame my own inertia to complete this once-in-a-lifetime replica of a unique aircraft reflecting a piece of a state's history. The kit was Hasegawa's standard 1/48 A-7 Corsair II, with enough parts to create any major variant of the aircraft. Since the subject was a 'D' variant, I used the parts to make this USAF Corsair II. For my money, Hasegawa still stands above the rest of model brands on the market for 1/48 A-7 value.

At first look, the aircraft appears 90% white, 10% glossy dark blue, i.e. a piece of cake to build. Except that photos reflected specific ending of the blue area, with sharp angled relief/change of direction locations. Added to that was the red stripe piping, which was mostly pencil-point narrow (read: easy as heck to split when sliding off the decal backing sheet) with its own sharp/angled change of direction, plus radiused (curved) ends. All had to meet at the same location on the finished model, preferably intact! Reference photos were mandatory for this one, plus the patience of Job.

Speaking of actual aircraft photos, every one showed this unique Corsair II in pristine state, i.e. barely a speck of dirt and/or grime anywhere on it – highly unlikely, especially if one could see the jet close up. I therefore was miserly with the weathering materials. Additionally, this was a show off bird, intended to "wow" the citizens of South Dakota at airports throughout the state, so no normal ordnance was added to the aircraft, save for perhaps a ferry tanks, which I decided leave off, making the model super stripped down.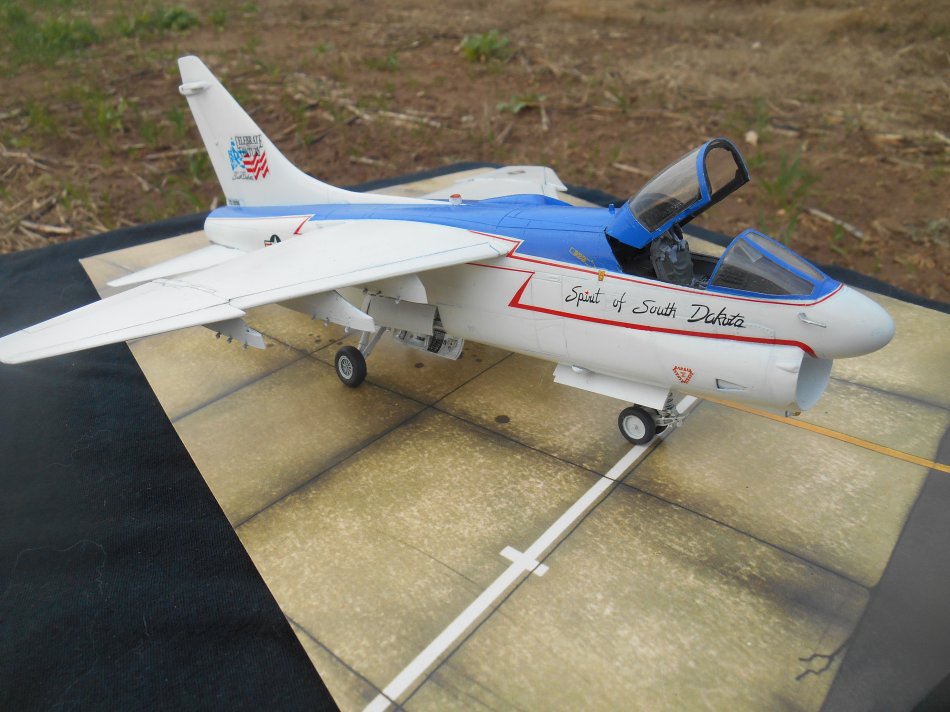 The special centennial decals came with the model kit; I only purchased an after market True Details cockpit seat. I left the model in a high gloss finish, just like the real jet at the time.
Carl Jarosz