"With respect, Sir, the man's a bit of a nutter." Lord Beaverbrook, Minister of Aircraft Production, shot a quizzical glance at his aide. "Jenkins, you do realise, don't you, that this is the man who developed the Fruitbat? Without that aircraft the Germans may well be marching up The Strand by now." "Yes, Sir, but that's been his only successful venture. He's mostly been designing small things like tea kettles and door stops, and tests by the Army have reported that his tea kettle would be more useful as a door stop, and the door stops should be melted down to make more tea kettles to be used as door stops."

His Lordship rose from his chair and strode to the window, looking out at the streets of London. "And there's another problem. It seems that he is mired in a legal tussle with Westland over this. They are quietly claiming that he has no license to produce the Lysander, which is the basis for this aircraft, and others he has on the go." Beaverbrook turned, "Quietly?' he said, with a raised eyebrow. "Yes, they don't want the details made public, but it seems that one of their directors has been caught in a very compromising position, er… rather literally, with a member of the royal family, and Farley is using that as leverage to do as they wish." His Lordship allowed himself a mild chuckle. "I do love you British", he said with a smile, "You do political scandals better than anyone. Always sex and the upper crust. Well, let's at least take a look at what he's got, maybe he'll get lucky again."

The Ministry crew that turned up for the unveiling was shocked when they noticed that Farley may also have some dirt on the America Grumman corporation, as the bottom of the new aircraft looked distinctly 'duckish', but nobody wanted to enquire further and risk taking things international. "Um, why are there paddles on the sides?" asked Jenkins. "Not paddles, OARS", replied the company representative "Operator Assisted Redwood Steering, it's a method for docking or beaching with more delicate control than using thrust and rudder. The observer in the lower fuselage opens his windows and snaps them into oarlocks on the inside." "The wood doesn't look very red." "No, we bleached it a little, if one gets lost on night ops we want them a bit easier to find and retrieve. Genius, eh what?" Jenkins gave a wry grin to be polite. "And those wing floats seem… unconventional." "Yes, we decided to go for aerodynamics rather than hydrodynamics, since it will be flying more than taxiing." Jenkins surveyed the rather unaerodynamic look of the entire contraption, aided by a ghastly paint scheme, and resisted a head shake.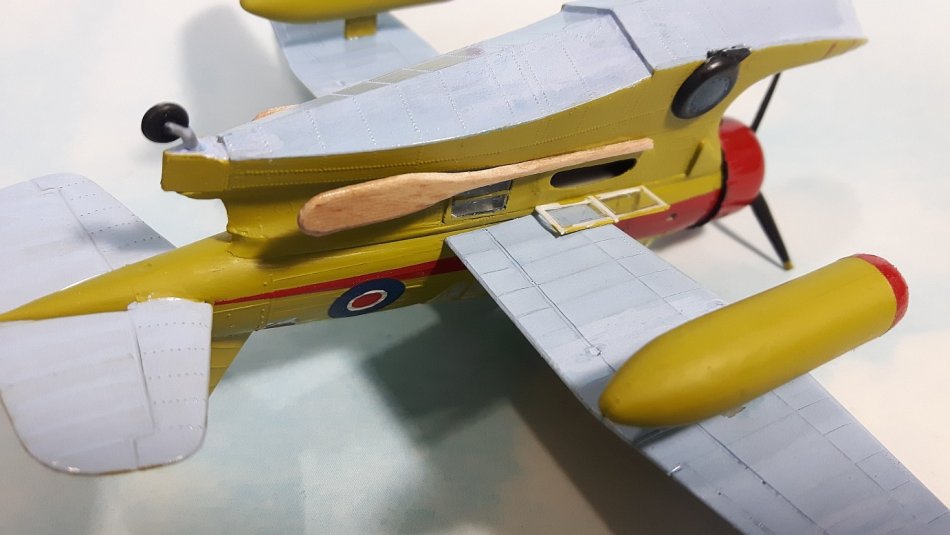 The engine was started, and the company pilot, Squadron Leader Brian D. Basher, retired, performed all the pre-takeoff checks. The throttle was eased forward, and the aircraft lurched away from its moorings. Lifting off from the water was surprisingly sprightly, no doubt aided by the biplane lift. A few circles over the observers, and a couple of high-speed runs, and the initial test flight was done, with it settling back onto the water with ease. Mr. Basher beamed with delight as he brought it back to the dock, "Splendid aircraft, absolutely splendid! Light on the controls and stable in all directions!"
And so it was that the Farley Flutterbug worked itself into the plans of the RAF, the RN, and the Army, performing surveillance, air-sea rescue, and clandestine operations, and fearless Mr. Basher soon became Sir Brian of Rutland for his services to the war effort.
Dave Bailey