My entry for this day remembering Operation Desert Storm or Operation Granby for UK Forces
I made it at 2013, and photos belong that year...
Hope you enjoy it.

It's an Airfix 1:72 Chinook HC. 1 of No. 7 Sqdn of the RAF in Operation Granby based on Al Jubail AB, Saudi Arabia during that campaign on Iraq in early 1991. The camouflage is Desert Pink washable to which stripes and black spots applied or experimental nighttime camouflage along with 6 other machines because I supported English SAS. It is said that they operated from the first day of the 1st Gulf War and that once came to infiltrate troops to Baghdad, supported transporting commandos to locate the Scuds and helped evacuate personnel of the British embassy of Kuwait (Helicopters, RBA, pp 65 and 66)
Armed OOB but with much added scratch to correct absences or deficiencies in the kit, which despite being edited by Airfix is Italian mold. Although the original version of the kit represents this Chinook with its decoration immediately after aqella war, I modify it by adding EAPS weapons and filters and other related equipment, as well as not putting some kit strikes. It took me a lot longer than I thought, because even the kit is good, it lacks many details.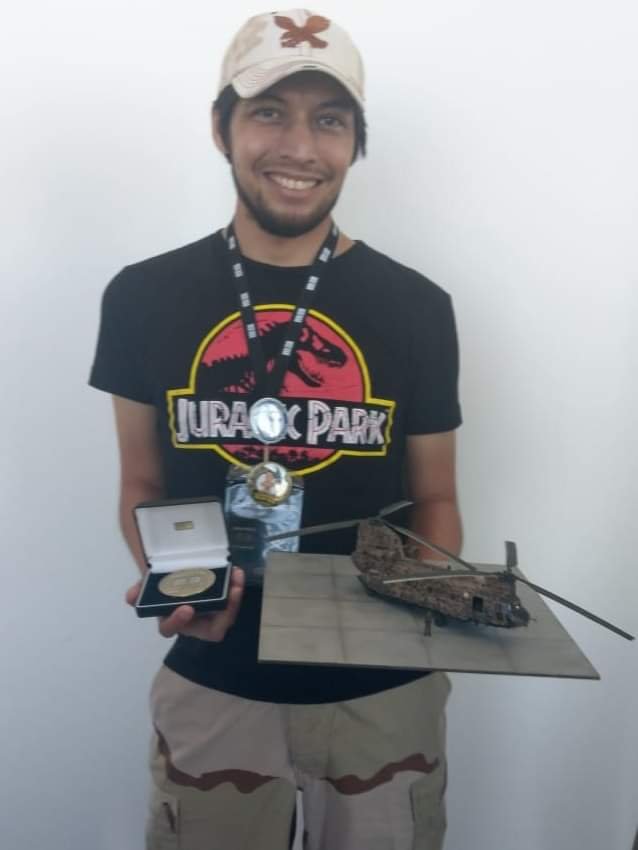 Photos by way of "a virtual Walk-Around" to my Chinook parked on the platform under a hot desert sun on some allied base of that war.

Value to say he was armed as part of Heli-Challenge 2013 on Hobbymex forum and now in 2019 took him to M 3 and won gold medal.
David Eduardo Canto Herrera