1/48 Monogram F-106A Delta Dart "Balls Six"
| | |
| --- | --- |
| | Gallery Article by M.J.Gormley |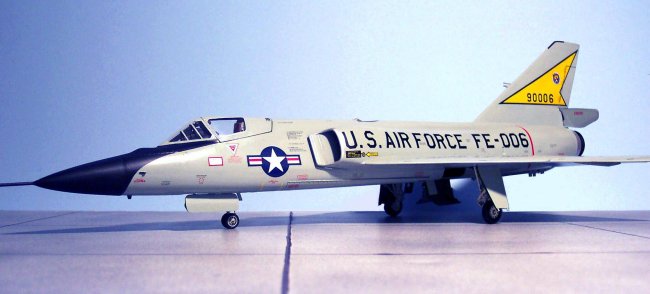 This F-106A was flown by my Father, then Capt.J.D.Gormley while based with the 5th Fighter Interceptor Squadron, "Spittin' Kittens" in Minot, ND in 1960. He affectionately named his aircraft "Balls Six" based on the last 3 numbers of the aircrafts tail # 90006. 2 "goose-eggs" + 6 = "Balls Six." Not surprising due to the testosterone-laden mentality of most fighter pilots! The fighter squadron commander solicited the input of his pilots to design a tail design for the then new 106's, and my dads was chosen. The plain yellow delta is sleek, clean and simple, and fits the "Delta Dart" perfectly. To date, this 106 is the best looking A/C I have ever seen. At the time, the squadron actually had 3 or 4 live Canadian lynx cats on the alert pad as pets. At some point, the 5th FIS changed this tail design, but did keep the "Spittin' Kitten" logo.
The kit was built OOB with the exception of Experts Choice decals. The only decal I really needed at the time was the "Spittin' Kitten" logo on the left side of the tail. These days I can scan or download the image and print to clear decal stock so I won't be doing that drill again! I painted this 106 with Model Master FS#16473, and the tail logo with insignia yellow. The black stripe outlines are decal strips I cut from decal stock. Decals were applied and a coat of Testor glosscoat sealed it up. I elected to build this kit with the missile doors closed in order to keep the airplanes profile as clean as possible.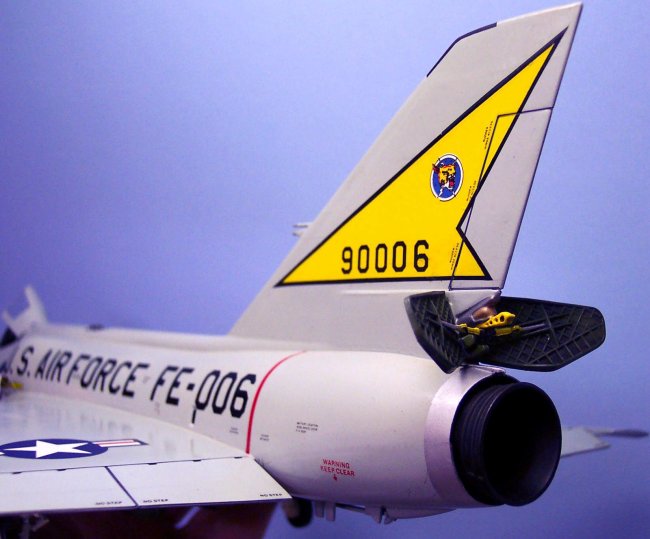 The F-106 carried a compliment of 4 Falcon air-to-air missiles and a nuclear tipped Genie rocket. A very formidable interceptor indeed. I've built the kit a couple times, and always enjoy it, but would really like to see a really high quality, highly detailed 1/48 scale version some day soon.
Hope you enjoy the pics! God Bless.
M.J.Gormley