1/48 Monogram F-5E Tiger II
Gallery Article by Gary Wickham on Nov 5 2003
F-5E Tiger II VFC-13 Fighting Saints
Well I just can't seem to stop building these Aggressor aircraft. What can I say !! They just appeal to me and thankfully TwoBobs have supplied us with plenty of fantastic options.
Wanting to "stretch" myself with a modelling challenge, I decided to pick a kit from the cupboard that I'd need to re-scribe (Yes I know, I know, I wondered myself).
The Revell (ie Monogram) F-5E seemed like a good candidate as it was a fairly simple airframe for which I had good reference as far a panel lines etc went.
How did it go ? Well I'll let you be the judge of that, but I'm glad I tackled it. Lots of room for improvement, but now I know what its all about and all those raised panel line kits sitting in the closet have moved one step closer to the front of the queue :)
Now obviously I did more to this model than just re-scribe it. Following is a summarised list of what I did and used,
Black Box cockpit (#48034)

Twobobs Aviation Graphics Decals (48-014 VFC-13 Desert Cats)

RBF tags (Eduard Pre-Painted 73-008)

Sidewinder Seeker Cover (Airwaves SC48-095)

AIM-9J and ACMI Pod from Hasegawa Weapons Set(s)

Auxiliary Air Intakes slats added from sheet brass (each side of rear fuselage)

Scratchbuilt engine interior detail (needed once I decided to open the air intake slats !!)

Rebuild and detailing of nose gear.

Dropped flaps, slats and ailerons. Detached rudder and elevators.

Improved the kit boarding ladder.
A brief word about the BB cockpit. This item is a model in itself. The canopy actuation mechanism that is so distinctive on the F-5E is beautifully reproduced in exquisite detail. It really lifts this model.

Of course as usual the TwoBobs decals performed superbly.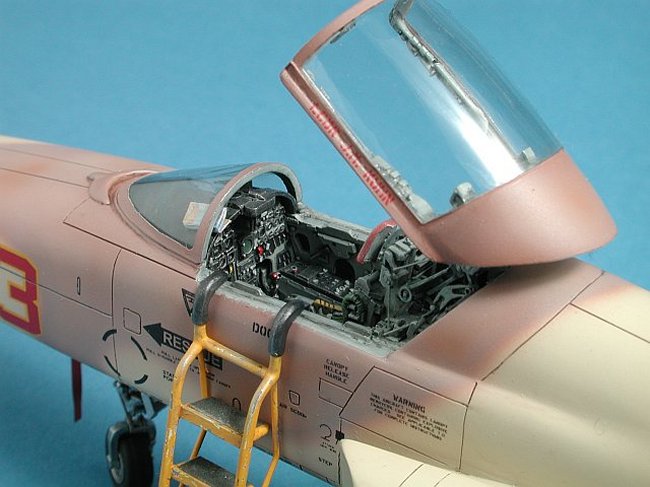 The model was painted in Humbrol and Model Master paints using blended colors to get the right faded look.
Well hope like the result. I think I'll take a break from aggressors for a while. I had my eye on the Airfix Super Etendard for a while.
Gary Wickham
If you are interested in my previous ARC submissions, please check out the links below