Rebuilding the Sword Talon & 1/48 Fujimi F5-B to a Dutch NF5B
After finishing my NF5A I had the intention to build a NF5b. However there was not a great model in the market.
Until June when SWORD appeared with a model of a TALON. This model comes with a good resin cockpit. So together with a Fujimi F-5b I started converting.
The main difference is the wing and tail section so this was taken from the Fujimi kit. The Dutch F5's where flying with tip tanks and had chaff and flare dispensers on the fuselage a drag chute bag above the tailpipe and ECM antenna on the tail
.
Putting the wings to the fuselage took some sanding but want without problems. Undercarriage was taken from the fujimi model. After finishing the F-5b was painted in the late scheme of the Klu NF5's light grey fs36375.
Decals came from Dutch Decals (late NF5 scheme) www.dutchdecal.nl The resin cockpit is nice detailed and I did not do modifications to this.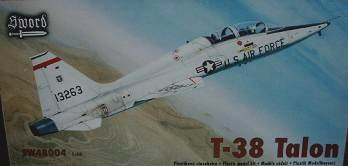 I gave the NF-5B the markings of 316 sqn. Now together with my NF-5A I have two unique models.
Henk Rodermond