1/48 Academy Sukhoi SU-27 Flanker B
by Steve Bamford
--------------------
From 1977, when the prototype T-10 was spotted by satellite, until 1988, few hard facts and little information were available. It was thought that this twin-engined fighter plane had strong design resemblances to parts of the F-14, F-15 and F-18.
Between October 1986 and December 1988 a specially modified T-10, known as the P-42 was used to establish 27 performance records which were submitted to the FIA for certification. All the records previously established by the F-15 Streak Eagle were wiped out by the P-42. When this information was published, it became general knowledge that this was an aircraft to be considered most seriously.
Some analyst think that the Russian avionics and weapons systems are not quite equal to the western competition, but in terms of speed, range and maneuverability, the SU-27 is superior to any aircraft in the western inventory. Probably until such time when the Lockheed F-22 is operational, the SU-27 must be regarded as the best fighter in the world.
Much of the SU-27's performance must be credited to it's superb AL-31F engines which are rated at 12,500Kg (27,550lb) thrust in after-burner stage. The engines which are easy to maintain and interchangeable between left and right, have a tremendous tolerance to severely disturbed airflow. It is this feature that allows the engines to run smoothly while the Flanker performs these unusual maneuvers. Unlike earlier short-lived Soviet jet engines, the AL-31F engines have a life of 3000 hours based on 100 hour engine checks and 1000 hours overhauls. This is fully comparable to the best the west can offer.
When the SU-27 performed it's "Cobra" maneuver at the 1989 Paris Air Show, the western world suddenly learned that the SU-27 design was probably the finest fighter plane in the world. To see this very large airplane fly at an attack angle of 120 degrees without crashing, shocked every observer. Since then the routine has been performed as a demonstration feature at most airshows.
Armed with four R-73 AA-73 Archer missiles for short range combat and an array of R-27 IR-homing long range missiles, the SU-27 also carries the same internal GSh-30-1 30mm cannon used by the MiG-29. Firing at a rate of1,500 rounds per minute, the cannon barrels only have a life expectancy of 80 seconds before they must be replaced.
The SU-27 Flanker B, together with the MiG-29 gives Russia air combat capability that is certainly equal to but most likely superior to that presently available to the west.
This Academy kit is well known as the best 1/48 SU-27 available. The stunning sexy looks of the Su-27 make it a popular plane for modellers and aviation enthusiasts alike.
| | |
| --- | --- |
| Make no mistake about it....in 1/48 this is one large fighter jet...slightly larger than an F-18......and much better looking than an F-18. | |
The surface detail over this entire kit is outstanding. I could find nothing on the surface detail that didn't make me grin with delight.
| | |
| --- | --- |
| This kit comes with a full weapons load. I'm not a stores expert so I won't go into much detail, but I will say there are 8 missiles to sling under this model and 2 more to add to the wing tips. All the missiles have recessed panel lines and the same high level of detail as is found on the rest of the kit. | |
Another example of the great surface detail on this kit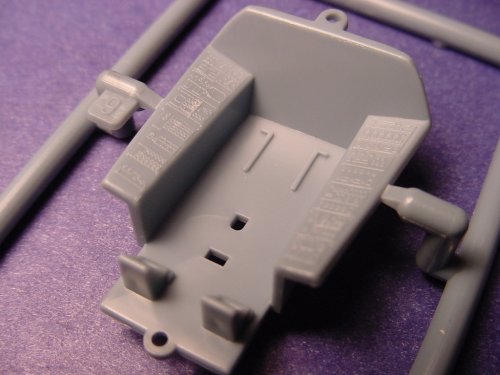 Cockpit detail was disappointing. The detail was very faint.....I would be replacing this kit tub with the excellent Neomega resin set.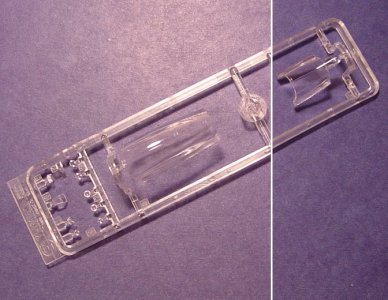 Good clear parts packed in a separate bag.
The canopy parts do have a seam running down their centre that will have to be removed. This is due to the complex shape of the canopy. Removing this seam line is easily possible with the correct technique.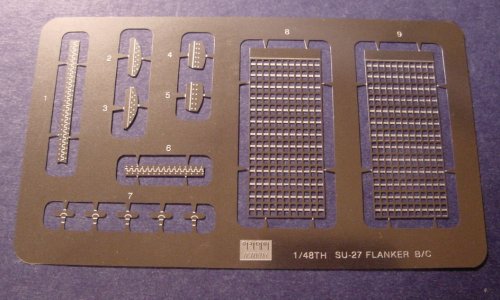 Fret of Stainless Steel PE parts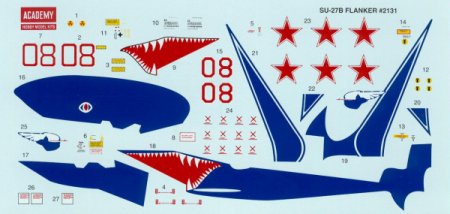 Only one decal option....a Russian plane with a Shark Paint scheme
Rubber tires...this is a disappointment.....but Cutting Edge makes replacement resin wheels product number CEC48062.
Click image below to see larger image....
use your back button to return to this page.
Conclusions: This is one sweet kit.....I can see why everyone was telling me how nice it was. With an aftermarket resin cockpit set, you would easily have the parts for a very impressive model. I'm not overly excited about the shark option in the kit decals and I'll probably go with some aftermarket decals, but that's just my own tastes. I'm pleased I went out and bought this kit.
Photos and text © 2001 by Steve Bamford