PREVIEW
Hasegawa 1/48 weapons set #1
by Steve Bamford (ARC Staff)
Hasegawa makes many aircraft model kits, but one sad surprise when you open their jet kits is the lack of ordnance. Hasegawa instead prefers to sell the ordnance separately in ordnance kits. As you can see by the picture above of the boxart....there is plenty of "stores" in this one box.
This set mainly covers US dumb bombs, some bomb rails and a tow target system, included are two Mk.84's, six Mk.83's, six Mk.82 Snake Eyes, ten Mk.82's, six Mk.82 with extended fuse, six Mk. 20 Rockeyes, six M117's, three SUU 30's, 36 sway braces for ejector racks, two BLU-27's, two TDU-10B, two RMU-10/A's, two SUU-20's, two MER's, two TER's, two training bombs, two TDU-10B's, 16 more sway braces for pylons.
Also included is a quite complete decal sheet....the clarity of the text is clear bit completely unreadable...it does look like text though. The instructions include painting instructions using Gunze Sangyo Aqueous Hobby Color line of paints. Considering there are only 12 colours mentioned in the paint guide in the instructions and they are very simple colours, I doubt anyone will have any problems using their favourite brand of paints.
The casting of the grey plastic is typical Hasegawa high quality. Beautiful raised and recessed panel lines (some panel lines are raised on some bombs). There was no flash on the example before me.
All in all a good set to have when you want to add these stores to your latest kit.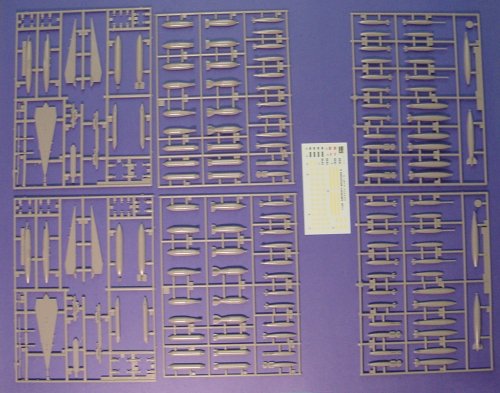 The complete kit.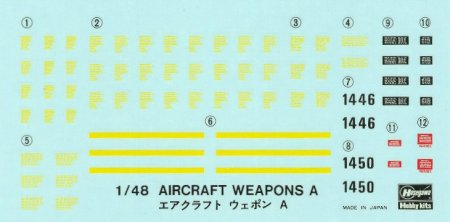 Decals are slightlyclearer than this.
| | | |
| --- | --- | --- |
| | | |
| Two of these sprues are included | Two of these sprues are included | Two of these sprues are included |
Review sample kindly supplied by North American Hobbies.