This is the new 1/48 F-14D cockpit set. This 27 piece resin set is cast in the usual cream coloured resin. These parts are a good improvement over the Hasegawa parts. The large instruction sheet covers the complete assembly, but includes no painting instructions for the anything, so you'll need to haul out your reference books when you come to the painting part of this set.
The parts such as the cockpit tub are a beauty to behold in this Black Box set. Both seats fit well in the cockpit tub and the seats are very well done and I'm afraid my photo of them below doesn't do them justice. The bottom of the tub needs to be sanded to a prescribed line on the outside of the tub, but all this is detailed in the instruction sheet.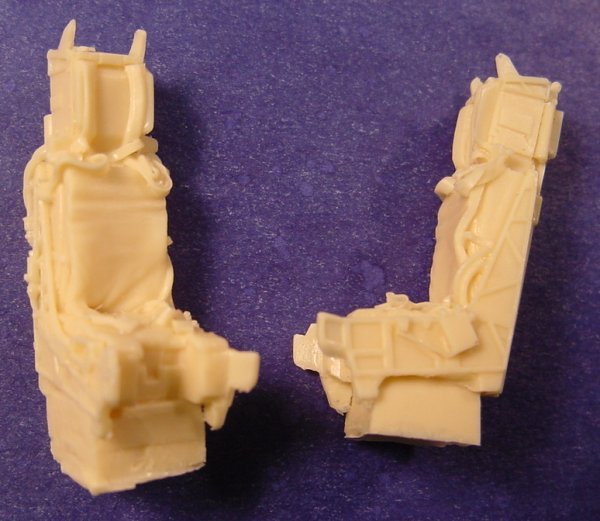 Front and rear ejection seats
One area of disappointment is the grab handles that glue to the ejection seat between the pilots legs were both cracked on my sample copy. All in all, this is a well done set that will compliment the Hasegawa F-14D kit.
Steve Bamford
Lots of great detail here
(click on photo below to bring up large photos, use your browsers back button to return to this page)