Here's a review of a new 1/72 sheet from Twobobs.

Two aircraft are represented in their new Super Hornet markings. Enough marking options for two complete jets.

This is a scale-downed version of the 48th sheet 48-103 with the same subjects.
F/A-18F 166632 VFA-11 CAG Jet from Aug 2005
F/A-18F 166467 VFA-106 CO Jet from Aug 2005
The decals are beautifully printed, and are clear and sharp. The white markings are nice and bright. Some of the markings are 2 piece decals, ensuring proper color and registration.

www.spruebrothers.com).

VFA-11 recently converted from the F-14B to the F/A-18E.

VFA-106 recently added Super Hornets to its fleet and is the East Coast training unit for Hornets and Super Hornets.

The folks at VFA-11 and Dan Teker helped out with the references.

The instructions are clear and include 4 views of each aircraft. The decals are beautifully printed on 1 decal sheet. Paint codes are called out in FS #'s, Testors MM, Humbrol, Gunze Sangyo and Xtracrylics.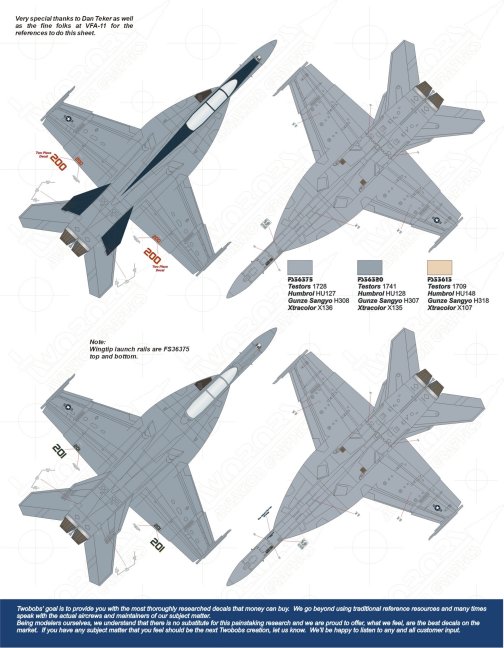 I would like to thank Twobobs for this review sample.

This sheet is available through

the Twobobs website and select US Hobby Shops. Overseas customers can purchase these from Twobobs site or through Twobobs network of overseas distributors.

Ken Middleton