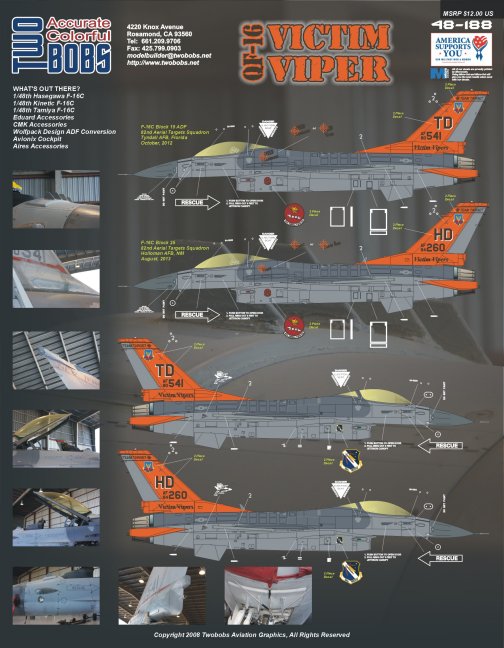 Here's a review of a new release from Twobobs. This sheet includes two complete fictitious jets of the follow on full-scale target drone aircraft for the USAF.
One Block 15 ADF and one Block 25 aircraft are represented with four options for nose art. These aircraft both fly at Tyndall AFB and Holloman AFB and these tail codes are represented on this sheet.
Originally distributed as a BAE Systems promotional item, these have now been made available for public consumption as a Twobobs product.
Recommended Kits:
The instructions are clear and include 4 views of each aircraft. The decals are beautifully printed on 1 decal sheet. Paint codes are called out in FS #'s, Testors MM, Humbrol, Gunze Sangyo and Xtracrylics.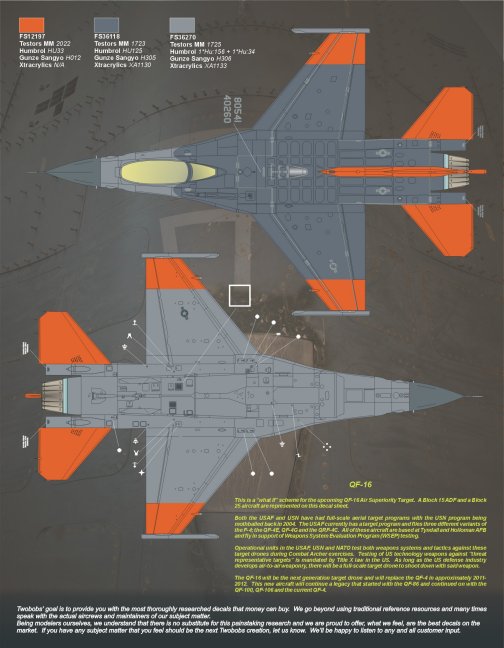 I was very excited when I saw this decal sheet, because these F-16s with their orange high viz panels really stand out from the usual F-16's in their lo-viz paint schemes.

This sheet is available through

the Twobobs website and select US Hobby Shops. Overseas customers can purchase these from Twobobs site or through Twobobs network of overseas distributors.

I would like to thank Twobobs for this product sample.

Steve Bamford