This is one of a number of 1/144 Kawanishi N1K Shiden-Kai model kits from Platz Hobby . The fine panel line detail as well as excellent detail in other areas of this kit is easily as good as 1/72 scale. Platz has taken the 1/144 scale kit to a very delicate looking and well detailed level. All panel lines are fine and recessed. The canopy and windshield are a one piece affair, so if you want to pose this model with an open canopy you have 2 choices. Use an Xacto knife and carefully cut the windscreen apart from the rest of the canopy.......or just cut grind/sand/file away the unwanted parts from the 2 canopies included in this kit. Yes you actually get 2 kits in this one box......so if you are willing to sacrifice the second kit to have an open canopy on your model, then this is an option.
The 4 pages of instructions are your usual exploded line drawings with the majority of text in Japanese. They look like they will be easy to follow.
The engine cowl ring is very finely crafted and the prop blade is thin and looks correct. You also get an engine which will come to life with a bit of paint and dry brushing. The tail wheel is very nicely detailed and of course the main landing gear look very good as well. This kit comes with a separate seat and flat instrument panel that could be dressed up with a custom made instrument panel decal if you were motivated. The seat is well done and could be further enhanced with seat belts. The main landing gear are delicate looking and well detailed and even have 2 part landing gear doors. This kit does include a drop tank that you have the option of mounting on the belly of the aircraft. The tailwheel is amazingly well detailed and very tiny. The antenna mast behind the canopy is a little thick and I think a more accurate replacement could be scratchbuilt if you were truly keen to do so. The engine cowl has tiny exhaust pipes coming out of it. The panel lines on the wings are well done and there is even shell ejection chutes on the underside of the wings. The canopies have very fine clearly defined canopy frames that will assist when painting the canopy.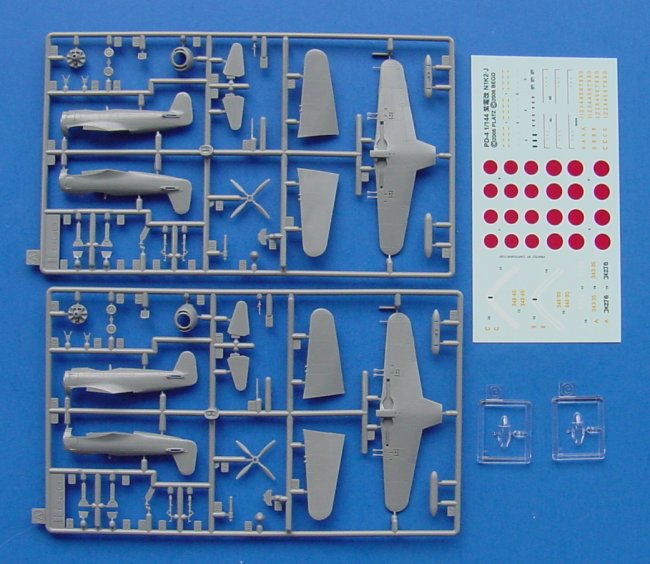 The decals include 5 different Kawanishi N1K Shiden-Kai "Late Version" from 1944 and 1945 including 2 with fuselage stripes and even the orange prototype. Platz has chosen a good variety of paint schemes.
Kawanishi N1K Shiden-Kai "Late Version" Orange prototype 1944

Kawanishi N1K Shiden-Kai "Late Version" 343rd Naval Flying Group, April 1945, Matsuyama Air Base

Kawanishi N1K Shiden-Kai "Late Version" 343rd Naval Flying Group, April 1945, Matsuyama Air Base

Kawanishi N1K Shiden-Kai "Late Version" 343rd Naval Flying Group, Aug 1945, Ohmura Air Base

Kawanishi N1K Shiden-Kai "Late Version" 343rdNaval Flying Group, #5243 Kawanishi factory
The decals are excellent quality and in register and include stencils including prop decals for 3 aircraft. All parts are packed in separate bags to protect the smaller more delicate parts and even the canopies are in their separate bags.
1/144 models are a blast to build out of the box and I guarantee you will enjoy building in this tiny scale and if you are crazy enough to try.......I've seen some stunning detailing in 1/144 scale.
Check out http://www.platz-hobby.com/ for this and other fine products. I'd like to thank Platz Hobby for the review sample......this kit is made in Japan and the high quality is evident throughout this tiny model kit.
Steve
Click on images below to see larger images