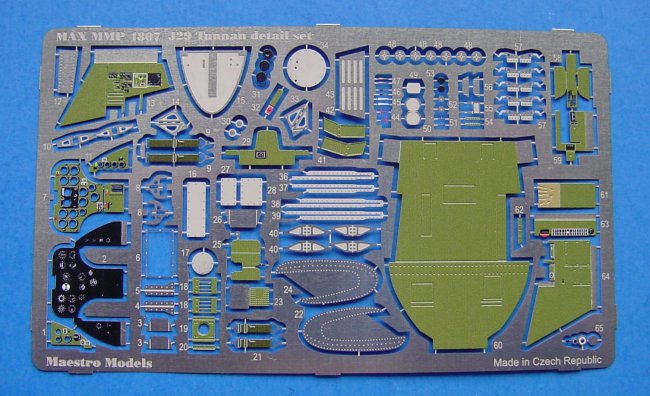 This pre-painted photo etch set is manufactured by Eduard and available from Maestro Models and Rebell Hobby. This is a pre-painted set and gives you detail parts for the cockpit and exterior and even the brake on the main landing gear. The pre-painted instrument panel is 2 layers and is flawlessly painted with accurate minute detail. This set also include a pre-painted cockpit tub that you need to fold to create and there are other parts on this set that will require folding and bending, but if you have one of the Hold & Fold photo etch benders from The Small Shop, then this will be an easy process.
Drop by The Small Shop for a variety of different tools for folding and bending photo etch parts. Using their tools makes working with photo etch a quick and easy process.
The sidewalls are pre-painted in glorious colors that show the tiny detail very well. This set includes many many parts including seat belts.
There is 4 pages of instructions which are the usual easy to follow line drawing instructions you find in all Eduard sets.
This is a very well designed set that is full of parts and the photo etch cockpit tub seems like a ingenious alternative to the usual resin cockpit tubs. It will be an excellent addition to the 1/48 J29 Tunnan.
You can buy this set and many many other items for Swedish jets from Rebell Hobby or Maestro Models.
Steve Bamford