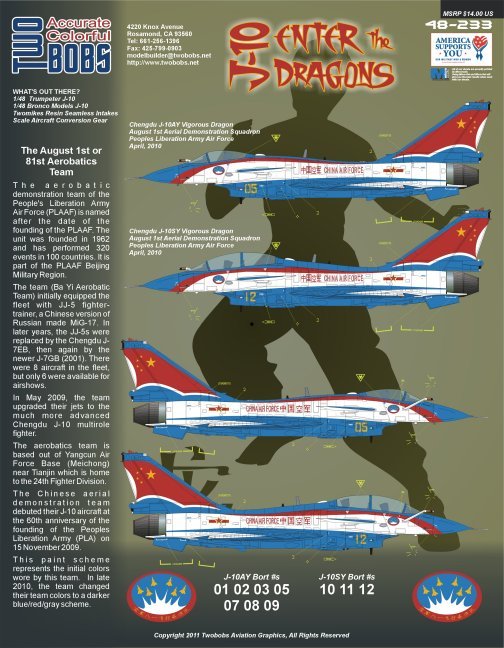 Here's a review of a new release from Twobobs. This sheet features beautiful markings from the first airshow season of the J-10 Chinese Demo Team. There are unique markings for both the single and dual seat versions of the J-10. You get separate serial numbers so you can mix and match the serial number decals and make your choice of 1 of the 10 different aircraft on the team including 7 of the J-10AY single seaters or 3 of the J-10SY two seaters.
There are enough options on this sheet to build 1ea of any of the jets from the 2009 airshow season. Decals are sized for both the Bronco and Trumpeter kits.

Recommended Kits:
Bronco J-10

Trumpeter J-10
The instructions are clear and include 4 views of each aircraft. The decals are beautifully printed on 2 decal sheets. Paint codes are called out in FS #'s, Testors MM, Humbrol, Gunze Sangyo and Xtracrylics.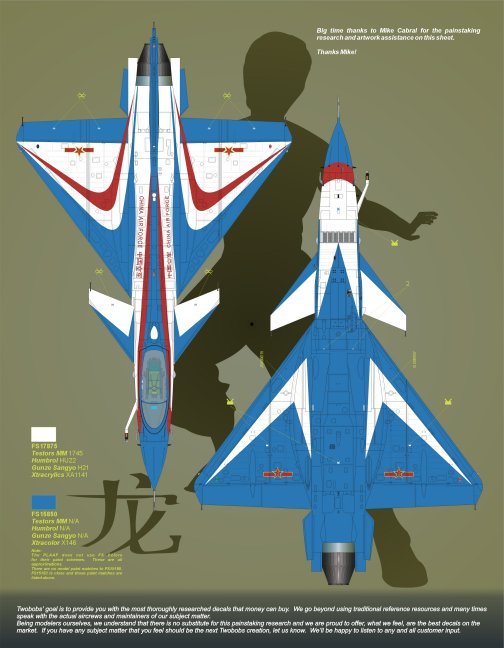 There is no doubt about it....these are great looking and very colorful jets and I'm quite pleased Twobobs has tracked down all the info needed to pull this sheet together. Now the only question is do you build the single seater or the two seater......or buy 2 sheets and build both of them?

This sheet is available through

the Twobobs website and select US Hobby Shops. Overseas customers can purchase these from Twobobs site or through Twobobs network of overseas distributors.

I would like to thank Twobobs for this product sample.

Steve Bamford