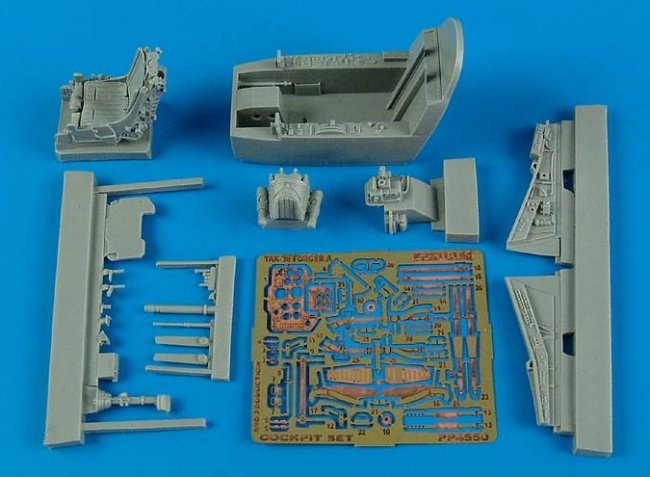 This latest release from Aires features a complete resin and photo etch cockpit for the Yak-38 Forger from Hobby boss.
This detail set includes;
Resin cockpit tub and 1 ejection seat with separate headrest

Resin side wall panels loaded with detail

Instrument panel in resin with built in coaming and HUD

Acetate panels for the instrument panel including clear panel for the HUD

Photo Etch panels for the instrument panel

Small resin bits to detail the cockpit

Photo etch detail parts including seatbelts, rudder pedals and much more

You get photo etch seat belts with separate buckles to pose any way you please

The HUD has Photo etch sides with a clear acetate center glass.
The quality of the resin casting is flawless and bubble free. The detailing is very well done with all the resin parts being finely detailed and the photo etch parts will add a wonder level of final detail to this cockpit set.

You will be required to fold the photoetch in this set, but if you have one of the Hold & Fold photo etch benders from The Small Shop, then this will be an easy process. They have a variety of benders for sharp corners as well as rounded corners and in many different sizes.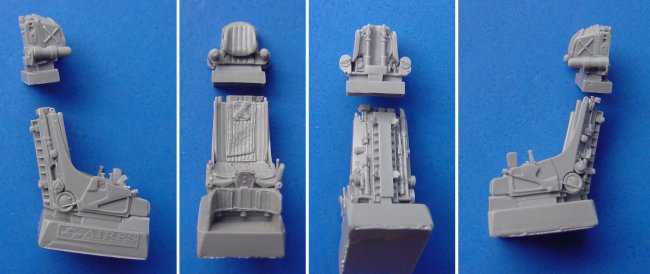 This is a very nicely thought out cockpit detail set that should give you exceptional detail once it is painted and installed.
You can purchase this and other fine resin detail items directly from Aires or from the many retailers that carry their products.
I would like to thank Aires for providing me with this review sample.
Steve Bamford