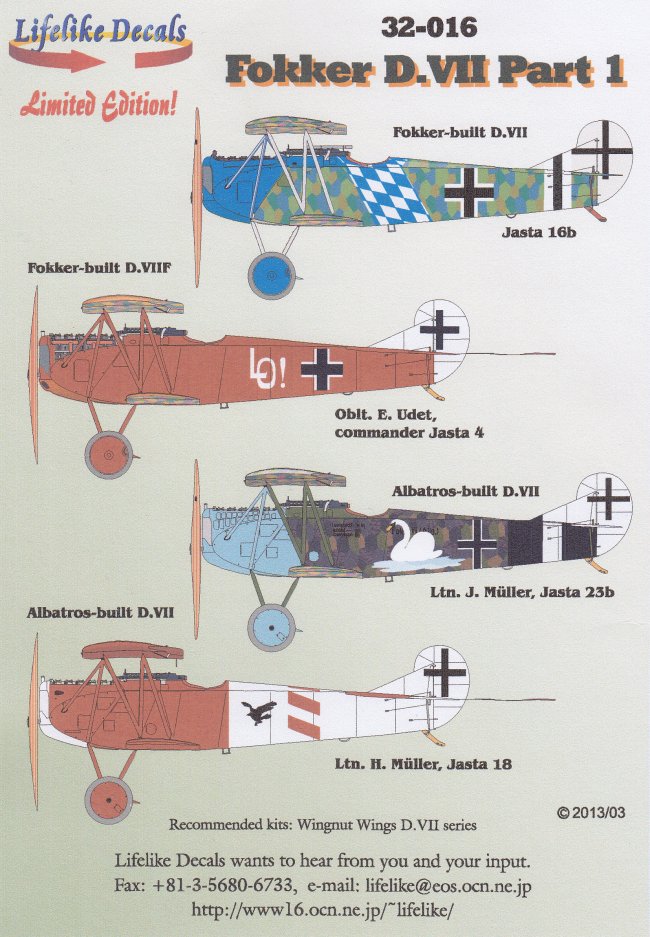 This latest release from Lifelike Decals features four different Fokker D.VII's including 3 with artwork and one with a fuselage checkerboard stripe.
All 4 of these aircraft include some form of lozenge pattern and that is not included in decal form on this decal sheet so you will have source them from another source. The 4 aircraft include the following.
Fokker D.VII, (early Fokker build) flown by an unknown pilot of Jasta 16b, St. Marguerite airfield in June/July 1918.

Fokker D.VII, F 4253/18, Jasta 4, flown by Obt. Ernst Udet, Montigny Ferme & Metz airfield in August/September 1918.

Fokker D.VII, (Alb) s/n unknown, Jasta 23b, flown by Lt Josef Muller, Epinoy airfield in July/August 1918.

Fokker D.VII, (Alb) s/n unknown, Jasta 18, flown by Lt Hans Muller, Montigny Ferme & Metz airfield in Summer 1918.
The quality of these decals is of very good quality. The decals themselves are clearly printed and in perfect register.
Lifelike decals continues to find wonderfully colourful aircraft to feature on their decal sheet and this is what I found on this decal sheet. The instruction sheets are loaded with text about each aircraft that helps you get things right on your model. I love the aircraft represented on this decal sheet.
You can purchase these decals either directly from Lifelike Decals at fax number is +81-3-5680-6733, and e-mail is lifelike@eos.ocn.ne.jp. or from HobbyLink Japan.
Other shops that stock Life like Decals are *Hannants/UK, *Mister Kit/Italy, *Revi (publisher)/Czech Republic, *SkyGrid/Canada, *Roll Models/USA, *Great Models Webstore/USA, *FlightDecs/Canada, *Victory Models/USA
*M & Models/USA, *Zed Hobbies/Australia, *AB &S Enterprise/Australia, *Desert Miniature/USA
I would like to thank Lifelike Decals for providing me with this product sample.
Steve