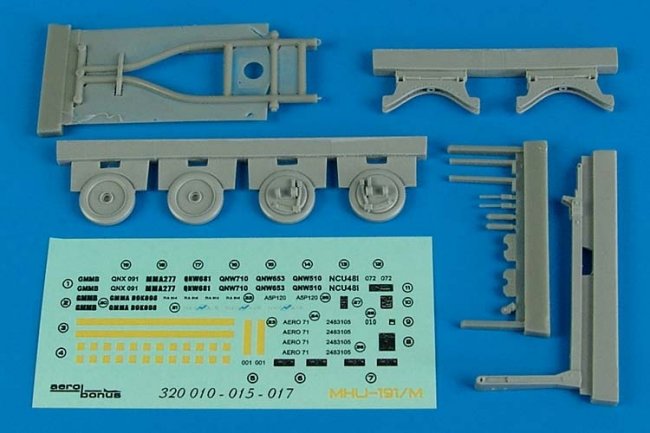 This latest release from Aerobonus is the 1/32 MHU-191/M munition transporter with aero 58 adapter. This is a munitions trolley and would be idea in a diorama.
The quality of the resin casting is flawless and bubble free. Connection points to the parts are thin and should be easy to cut with an x-acto knife. The detail is quite good including brakes on the back of 2 of the wheels. The instruction do show where the brake wheels are to be placed on the trolley. there is a tiny bit of casting flash to be removed from the main frame of the unit....this is not an issue...just go slow and you will be fine.
The MHU-191/M was adapted to a variety of configurations with this one having the Aero 58 adapter. You will have to ponder which unit you would like to use in your diorama as there are different ones available in this scale, so check your weapons load and select the correct munitions trolley.
This is also a decal sheet to give the finished look to your munitions trolley.
This is an excellent little unit to add to your 1/32 aircraft diorama....excellent detail and easy to assemble.
You can purchase this and other fine resin detail items directly from Aerobonus or from the many retailers that carry their products.
I would like to thank Aerobonus for providing me with this product sample.
Steve Bamford