This decal sheet from AOA Decals provides the A-4 Skyhawk airframe stencils for one aircraft in the high-visibility Navy light grey/white camouflage scheme. The Skyhawk's stenciling varied (even from aircraft to aircraft within same squadron and time period) - it would be near impossible to capture every style and variant. This sheet captures one of the most typical overall appearances for the smaller text based stencils, while also providing several of the more common variations, in some cases multiple options are provided of one marking.
Multiple styles of various common markings provided:
Two versions of intake warnings (and with three sub-options for one)

Two versions of the ejection seat warnings

Four versions of the crew rescue arrows (with optional Japanese character addition)

Five versions of the horizontal stabilizer angle markings

Six versions of the fuselage hoist markings

Also includes optional "deformed" national insignia for the forward right fuselage

And more….
This stencil sheet is printed available in limited numbers for separate sale -
one sheet is already included in the two A-4E/F releases (32-010 and 32-011).
It has a helpful instruction sheet that guides you through the process and offers some insight into when certain decals should be used (early aircraft etc).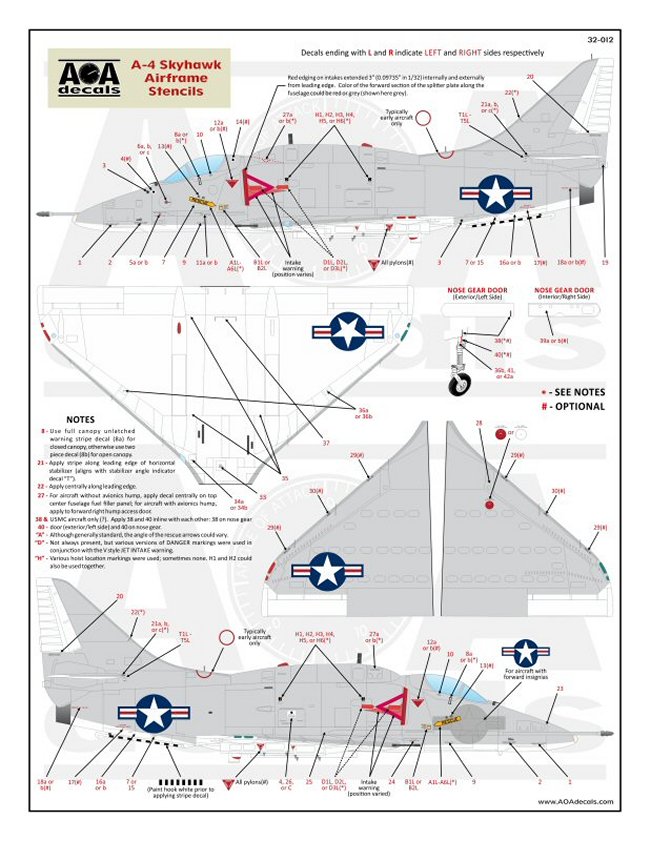 When you're building 1/32, the stencils become a pretty critical part of the decaling process. This new decal sheet steps up the game in this area if you're building the high-visibility Navy light grey/white camouflage scheme. This is a very nicely done A-4E, A-4F and A-4M Skyhawk stencil sheet.
You can buy this decal sheet directly from AOA Decals.
I would like to thank AOA Decals for providing me with this product sample.
Steve Bamford