Bill Bunting
Click here to find out how you can have your own ARC Web page
Mar 2003
Hi everyone my name is Bill Bunting. I am 42 years old and one day I'll be a grown up! I live in Whitby Ontario (Canada!) with my wife (19 years of "bliss") and 2 sons 17 and 15. Both of my boys are model builders too. I've been building since I was 8 – I can remember my Dad building me (I got to watch!) an Airfix Beaufighter when I was 7, but my first model was a Monogram 1/72 C47 "Puff the Magic Dragon". My brother painted it for me. I stopped building around 10, got into it again 16 to 18 and now again about 8 years ago. I like to build 1/48 WWII aircraft (surprise, surprise) but I also dabble with the occasional tank and I have built and flown RC aircraft. Most of what I build is on commission for a company so I don't get to keep 80% of what I build –sometimes I remember to take photos first. I am starting to get interested in WWI now and am currently working on an Eduard Moraine Saulnier N.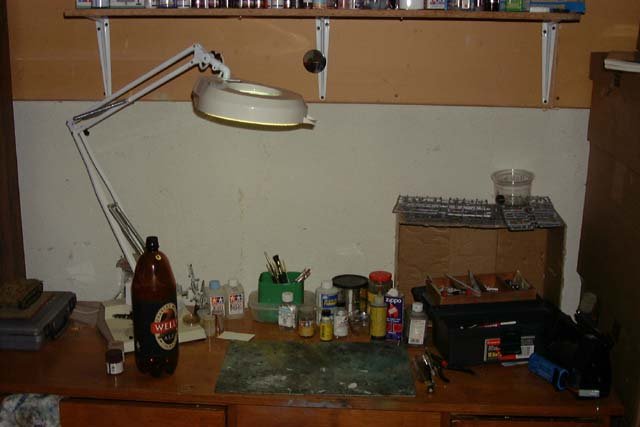 My work bench.
This is my work bench and emergency supply of liquid. It is never this neat in real life!
This is my spray booth. I had a friend in the computer repair business hunt me down a dot matrix printer sound proof box (remember those?) that was being tossed out when "laser" printers came along. I rigged up a 150 cfm fan which exhausts outside and two lights inside. It works great.
Home Sweet Home (hey it ain't much, but at least the beer stays cold!)
Bill
Please feel free to visit my website:

http://members.rogers.com/modelguy/