Justin Davenport
Click here to find out how you can have your own ARC Web page
Oct 2002
Okay, here's my ARCer's page. I'm a 31 year old tech support guy (with glasses and very overweight) who lives in South Jordan, Utah. That's 30 miles south of Salt Lake City and 30 miles north of Orem (where I work). But I'm not a native Utahn. I've lived in San Diego, but I have spent most of my life in southern Arizona…that's really where I'm from. Naah, I don't have a "better half" yet but I definitely would like one (though I don't quite know what I'd be getting into!! Maybe my opinion will change…LOL. Of course, I am relatively new to the dating scene and relationships…..I am very awkward socially in person but have been trying to overcome this. Yeah, I'm the stereotypical computer/modeling nerd!). As for my career, I've been doing tech support for computer users for 5 years and have been exposed to Windows 95/98, ME, NT, 2K, XP, Macintosh, Mandrake and Red Hat Linux, NetObjects Fusion, ColdFusion, broadband networking, and a LOT more…………….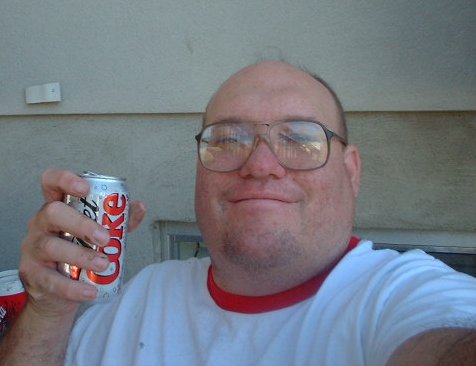 Justin and his Diet Coke.
But as for my hobbies, well, there's bowling, travel…then there's the biggie. Yes, plastic modeling. Specifically, model airplanes and real spacecraft. Now I did do a Star Trek Enterprise one time, but model planes and spacecraft have always held my imagination. I've built so many Space Shuttle kits I've lost count. And I've built lots of WW2 fighters and bombers (mostly when I was a kid), 50's and 60's era aircraft, airliners, and modern fighters. I'll build pretty much anything that flies if it looks eye-catching enough, delightful enough to my eye, or is unusual enough, or if it's historic enough, or "topical" enough (i.e. an Operation Enduring Freedom fighter or a bird involved in the upcoming war with Iraq). Also I like to build planes my grandpa flew (i.e. the Jug, I built one 2 years ago just as I was getting back into modeling after a few years' hiatus). Right now I'm hard up for space so I limit myself to 1/72nd, 1/144th, and the occasional 1/48th fighter, but if I move to a bigger place, I'll try my hand at 24th and 32nd scale birds as well. (IMO they're harder to get right because mistakes are magnified).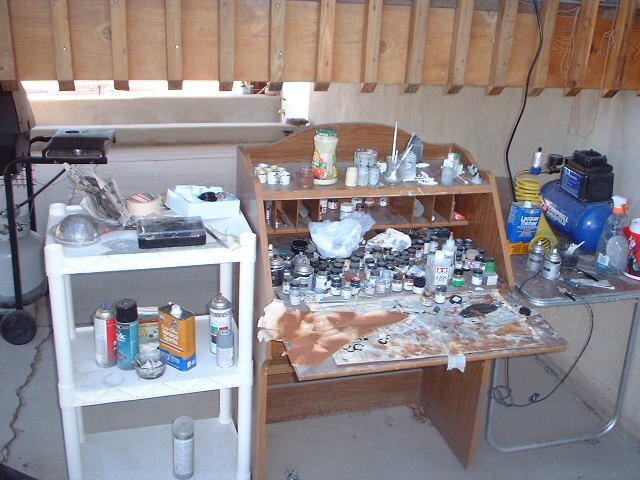 As you can see I have the world's messiest workbench. LOL I am not very organized.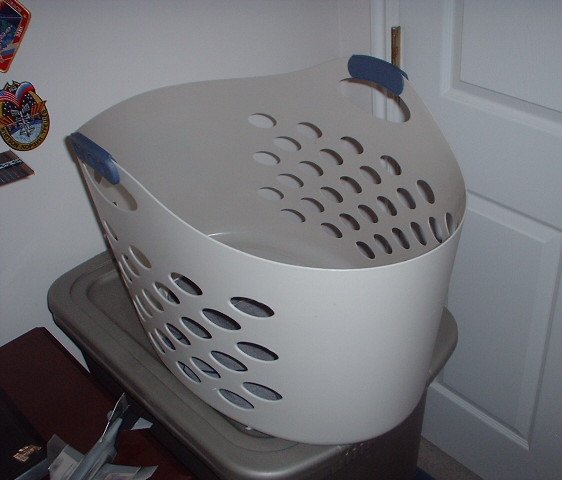 Okay, here's where I live! In the laundry hamper. No wonder my back hurts so much…..
Happy modeling!
Justin