Jim Penhale
Click here to find out how you can have your own ARC Web page
Feb 2001
Hi everyone!!! Welcome to my humble little web page. I'm 38 years old, trained as a Mechanical Engineer at the University of Alberta in Edmonton, Alberta, Canada, but currently living south of the 49th (and the Mason-Dixon line) in Oklahoma. My engineering specialty (and what keeps me in new models) is the pump industry.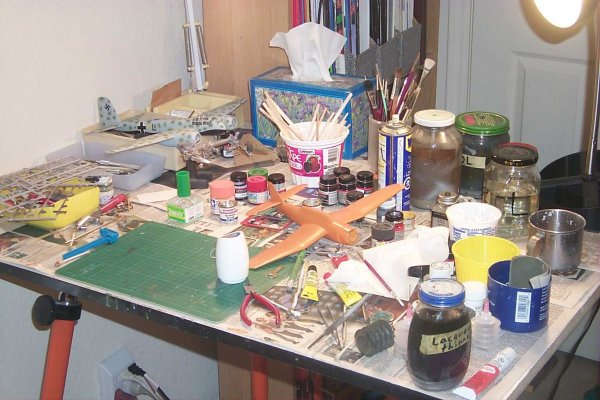 My workbench.... complete with two more projects on the go!
I've been modelling for as long as I can remember, but really first "got serious" about it when my younger brother gave me a Monogram P-40B kit for my birthday when I was about 14 or so. That was the first real attempt at using proper colours and markings, and I was so pleased I've been at it ever since. As a modeller who got his start in the '70s I'm really find I have a liking and soft spot for many of the Monogram kits of that era.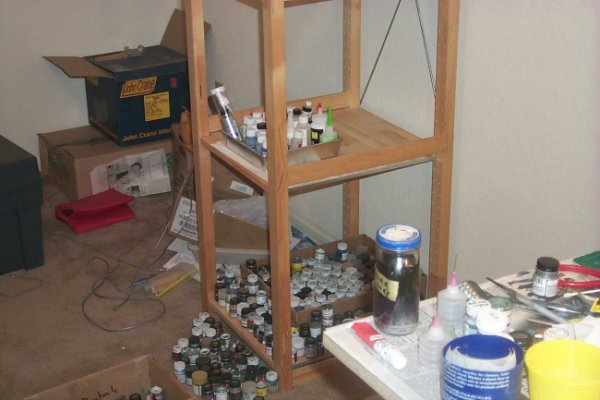 shelf unit behind my bench
Since that time I've added airbrushes, compressors, hundreds of bottles of paint, a couple dozen X-acto knives, 20 different grades of sandpaper, scores of strip styrene, plastic rod, brass rod,........And let's not forget the tons of unbuilt kits!

My specialty is 1/48th scale aircraft, any era, although I do have a fondness for those with propellors on 'em! Every once in a while I'll do a 1/35th scale armour kit but those are few and far between.

view from my chair at the bench watching the TV. I think the picture was
taken in the early morning, and TNT are showing CHiPs reruns guest starring "Elvira; Mistress of the Night"
Jim's home.