Click here to find out how you can have your own ARC Web page

June

20 2005
Here's our temporary residence we share with another family. It comes with an alarm system.
Hello, I'm Tony Crews, currently residing in Burke, Virginia (just outside of Washington, D.C.) I'm 43 years old and still trying to figure out what I'll be when I grow up, which is code for 5 years from retirement in my current job.) My family is my wife of 18 years, Bonnie, and my two girls, Morgan & Sara, the best models I ever built.
Click on images below to see larger images

If you don't have one, I highly recommend that you get a display case. They're not as expensive as you think.

And as you've probably noticed, I have a collecting habit that far exceeds my building habit. I'm working on it though.
I started modeling when I was five years old and I still remember the kit. It was a $1.20 Aurora Dr. Jekyll and Mr. Hyde kit my grandmother bought me at the dime store and I've been building fairly steadily since then. I love aircraft and science fiction, however, over the last few years I've really gotten into the Verlinden 120mm and back into some armor as well.
Tony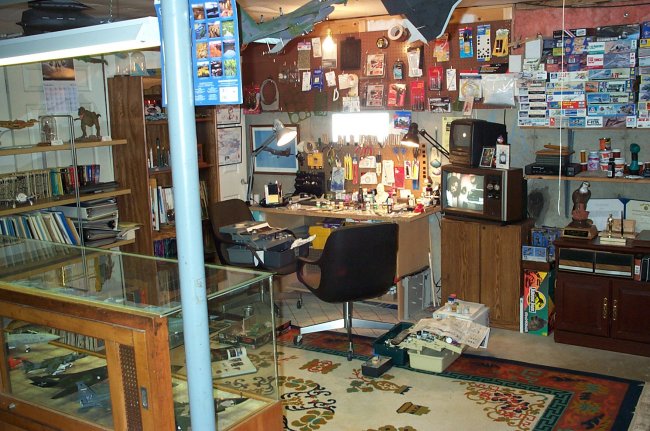 My home away from home in the basement. Any yes, there are two TVs, however, the other is the only VCR I could get for my workbench area from the family.
Photos and text © by Tony Crews